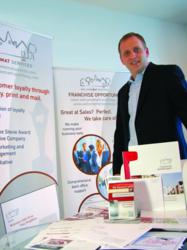 Atlanta, GA (PRWEB) May 24, 2012
Welcomemat Services announced today the signing of three new franchise agreements in the past three months, fueling the growth of the Atlanta-based marketing strategies and technology company that provides monthly direct-mail packages to new movers. The franchise agreements are for new markets in Nashville, Tenn., Asheville, N.C. and Bellevue, Wash. Additionally, Randy Rhea, an existing franchisee in Augusta, Ga., became the company's first multi-unit owner with the recent opening of a second territory serving the greater Charleston, S.C. area.
"Welcomemat offers so many small business opportunities," said Rhea. "Augusta was the perfect starting point for my Welcomemat business and since its initial successes, it led me right into a second location."
The Welcomemat program is designed to target new residents when they move into an area by presenting them with invitations to try various businesses and organizations, helping them to get acclimated to their new surroundings. Unique in the estimated $133 billion local advertising market, Welcomemat not only provides local businesses access to new loyal customers, but its specialized patented technology stores and logs customer demographics for use by the local businesses it supports. It's the first and only cooperative mail service to employ proprietary technology that enables new resident information to be barcoded onto every gift check, allowing clients to receive free customized tracking and information reports regarding responses to their offers.
"One thing that has had a positive impact on our growth is that as the franchise matures, our current franchisees are able to validate the system with their results," said Brian Mattingly, CEO. "Utilizing their success from these franchise opportunities with Welcomemat has been extremely helpful in the recruitment process."
Since franchising began in early 2010, Welcomemat has expanded to 10 franchised units and maintains 7 corporate-operated locations. Projections call for the opening of 8 additional franchise locations in 2012 toward a goal of opening 200 locations during the next five years in high-profile, transient markets across the country.