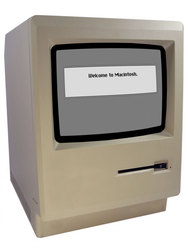 They have made their mark on technology and culture across the globe.
Santa Clarita, CA (PRWEB) March 24, 2008
"Welcome to Macintosh -- The documentary for the rest of us" is slated to premiere on April 6, 2008 at the tenth annual Wisconsin Film Festival, in Madison, WI.
"Welcome to Macintosh" is a feature length documentary that explores the many ways Apple, Inc. has changed the world. Whether a long time Mac fanatic or new to computers, Welcome to Macintosh takes you from the early days of the Apple-I to the latest the company has to offer.
The documentary includes interviews with notable Apple personalities Andy Hertzfeld, co-creator of the original Macintosh, Guy Kawasaki, long time Mac evangelist and Leander Kahney, author of the book "Cult of Mac".
"The goal was to make a film that you can show to anyone, even someone that has never used a computer, and have them understand why so many people love Macintosh," says Robert Baca, Co-Director of the film.
"Apple has changed the world, whether you know it or not," adds Co-Director, Josh Rizzo. "They have made their mark on technology and culture across the globe."
The movie was created with 100-percent Apple hardware and software (with the exception of Adobe Photoshop).
"Welcome to Macintosh means welcome to the experience, welcome to the lifestyle," states Rizzo. "Let us introduce you if you have never experienced it, and let's reminisce if you have."
Robert Baca and Josh Rizzo will participate in a "Q&A" session immediately after the April 6th premiere.
"We are very excited to be part of the Wisconsin Film Festival," says Baca. "It is a large festival, and we are honored to have been selected to participate."
Tickets are available through the Wisconsin Film Festival website at wifilmfest.org.
In addition to the movie, the Official Welcome to Macintosh Network includes exclusive behind the scenes content including photos, videos, discussions.
Welcome to Macintosh Official Movie Website
Wisconsin Film Festival Website
###