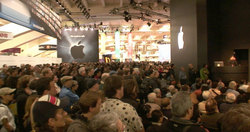 Potsdam is fun, pretty much what
Los Angeles, CA (PRWEB) June 2, 2008
"Welcome to Macintosh -- The documentary for the rest of us" has been officially selected to present at the 2008 IngenuityFest: Cleveland as well as the 4th Globians Documentary Film Festival. The documentary made its US premiere earlier this year at the Wisconsin Film Festival in April.
"We are very excited to be a part of these film festivals," says Robert Baca, Co-Director of the film. "The film is a great fit for IngenuityFest and Globians is a wonderful venue for international documentaries."

IngenuityFest: Cleveland - July 25th - 27th, 2008
The Ingenuity Festival is a weekend-long celebration of art and high technology, designed for audiences of any age and experience, staged in the center of Downtown Cleveland, Ohio.
"Welcome to Macintosh will be one of only four feature length movies presented, so it is truly an honor to participate," says Josh Rizzo, Co-Director of the film. "Hi-Tech Robotics, 3D Art, Live Music and Welcome to Macintosh? It doesn't get much better than that."
The Ingenuity concept pushes boundaries and fosters collaboration between art-based and technology-based initiatives, creating a unique festival experience that draws and celebrates diversity, and involves the audience as both spectator and participant.
Globians World and Culture Film Festival: August 8th - 17th, 2008
This annual international documentary film festival focuses on "world and culture" topics and Globians as a lifestyle: documentaries on a wide array of topics, all in one place -- Potsdam Germany.
"We are very happy to be able to show the film to a European audience," says Baca. "We have received hundreds of requests to bring the film overseas, and now we get to show it on the big screen."
Founded in 2005, the Globians World and Culture Documentary Film Festival is a ten-day event held in Potsdam, Germany. The Globians website states "Potsdam is fun, pretty much what "Berkeley" is to "San Francisco". With us you have focused and relaxed festival atmosphere with all of the pleasures of "the big city" Berlin, right next door. It's only a 17 minute train ride from Potsdam's main station to Berlin's Bahnhof Zoo and travel time from Berlin to Prague is short."
"The goal was to make a film that you can show to anyone, anywhere, and have them understand why so many people love Macintosh," says Rizzo. "Having been selected to present at such diverse festivals is a sign that we are achieving that goal."
"Welcome to Macintosh" is a feature length documentary that explores the many ways Apple, Inc. has changed the world. Notable Apple personalities Andy Hertzfeld, co-creator of the original Macintosh, Guy Kawasaki, long time Mac evangelist and Leander Kahney, author of the book "Cult of Mac" offer insight into the company's past, present and future.
The event dates are tentatively scheduled for Saturday July 26th and Sunday July 27th at IngenuityFest, and Tuesday August 12th at Globians. Globians will offer a repeat of the festival September 1st through 8th, with Welcome to Macintosh screening on the 5th.
Both Robert Baca and Josh Rizzo are planning to attend all events with the exception of the September 5th screening.
Tickets will be available through the festival websites:
IngenuityFest Cleveland - IngenuityFest:Cleveland Website
Globians Film Festival - Globians Film Festival Website
In addition to the Official Movie Website, the Welcome to Macintosh Network includes exclusive behind the scenes content including photos, videos, discussions.
###