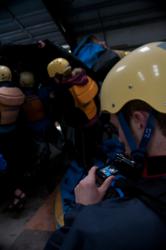 "It is exciting to combine my career aspirations with my passion for the outdoors," said Vickers.
Oak Hill, W.VA. (PRWEB) May 23, 2011
Out of the office and into the wilderness is the WELD way of interacting with their summer interns. This summer, four college students will join the marketing agency's team to get an internship experience unlike any other.
The four interns will touch on all things web and marketing and how they come together to benefit WELD's clients. Content creation, search engine optimization, video and audio experience for web development and social media training are all skills the interns will learn while at WELD.
WELD is excited to give a fun and active learning experience, knowing that the students would not get the type of internship experience elsewhere. WELD is a content and marketing technology agency based in Oak Hill, West Virginia. WELD's mission is serving businesses and organizations that promote adventure, adrenaline and wild places.
"The work we do is a lot like other marketing technology companies, but because our clients all come from the outdoor industry, we look for staff that can capture compelling content in some pretty challenging physical environments," said Reid Williams, Chief Content Officer at WELD. "So as an example, we have three people who are also going through whitewater rafting guide training at ACE Adventure Resort in addition to web marketing training with us."
The interns include Veronica Crosier, a geography and journalism major at Mount Holyoke College, Mass. Crosier is an avid equestrian and enjoys crafting a good poem. Crosier is also an opportunity seeker and is excited about the new experiences this summer will bring.
Jonathan Vickers, a graduate student at West Virginia University's School of Journalism, is experienced in a number of outdoor activities and has a passion for rock climbing. This summer's internship will tie together Vickers' love of the outdoors and Journalism.
"It is exciting to combine my career aspirations with my passion for the outdoors. I am looking forward to a summer of both learning and fun," said Vickers.
Leigh Ashby is also an eager WELD intern this summer. Ashby is majoring in public relations at West Virginia University. As a West Virginia native, she enjoys all things outdoors and sharing her passion with others.
New York native Laurie Tewksbury will also be joining WELD this summer as an intern. Tewksbury is studying advertising and marketing at Syracuse University. She is an "adrenaline junkie" who loves snowboarding and wakeboarding.
"I'm most excited about moving down to West Virginia for the summer and being able to combine two of my passions — marketing and the outdoors," said Tewksbury. "I am also super excited to share my passion for the outdoors with others."
Leading the 2011 summer interns at WELD is former intern Evan Moore. Moore, a 2011 West Virginia University graduate, quickly moved into this leadership role after an outstanding internship performance of his own at WELD in 2010. Moore is combining his love of outdoors and his professional aspirations as a web content editor at WELD.
"I came to WELD last summer after answering an internship flier and haven't looked back since," said Moore. "I've been working with the company for almost a year now and it's been great to combine the activities I love with important work. This summer is shaping up to be another great experience as well, especially since the internship program is growing and there will be even more fresh faces around the office."
This summer, the WELD internship curriculum has game-play mechanics that encourage motivation, competition and innovation among the students. Making work more like play, WELD ensures each student will get the best experience possible out of their summer internship.
# # #