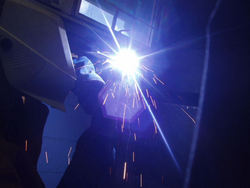 These are the types of welding processes that are taught in welding schools and are used in the majority of industries from ship building to nuclear power plant construction.
Pompano Beach, FL (PRWEB) February 16, 2010
Information about welding is now available with no catches or registration required! As if that weren't enough, Go Welding.Org is not like most other sources of welding information in that it explains different welding processes in normal, everyday terms. From welding techniques to the tricks the best welders use in the field, this information about welding is what most books don't cover and most writers do not publish because it can only be learned through years of hands-on experience. Go Welding.Org focuses on six major areas of welding, and each is covered in a detailed, in-depth fashion you simply will not find anywhere else.
The first is MIG welding, which is a semi-automatic welding process that is a high production method of welding. It is typically used indoors and can weld most metals. This process is suitable for manufacturing, artists, hobbyists, and general all-around metal repair and fabrication. The most common metals that are MIG welded are steel, stainless steel, and aluminum. MIG welding is easy to learn and requires the least amount of training.
TIG welding is known for producing some of the finest quality welds typically used on critical weld joints or any joint where precision is needed. TIG welding is also the most difficult welding process to learn because it requires both of your hands to work in different ways. On the positive side, this process can weld almost any known metal. In reality, most welding engineers will chose TIG welding for its ability to join exotic metals like titanium, copper nickel, magnesium, and anodized aluminum. On top of that, it is an excellent process for welding dissimilar metals together.
One of the oldest and most basic welding processes is Stick welding. This is typically the first type of welding taught in welding schools. Most students build their fundamental skills here and then move onto the other welding processes. Stick welding is virtually trouble-free and works well indoors or outdoors with excellent results. The metals welded are typically steel and stainless steel. It is rare to see other metals Stick welded because TIG and MIG welding does a much better job. The upside is Stick welders are the least expensive and for any hobbyist or artist they will most likely be the best choice.
FCAW or Flux Cored Arc Welding is nothing more than a different type of filler wire used in a MIG welding machine. However, this process is mainly used in heavy industry where massive amounts of welding are needed. Some examples of the types of places that hire and use FCAW are shipyards, industrial construction, and heavy equipment manufacturing. This process is best used on steel and on thicker metals.
When it comes to welding the ultimate skill to have is Pipe Welding. Pipe requires a whole new set of skills using any of the common welding processes. The reason behind this is that pipes are round and the welder must be able to adapt to an always changing angle and body position. Pipe welding is one of the few skills that can earn you a doctor's salary with just a high school diploma! Pipe welders can earn those wages because of their skills and physical stamina.
Finally, Go Welding.Org also covers all the need-to-know information about welding certification! This is a subject that very few books cover and when they do, it is the bare minimum. Go Welding.Org has one of the most comprehensive and accurate pages about welder certification anywhere. It features many unique and hard-to-find photos of welding positions, common job site tests and extremely rare how-to guides on the most common welding certifications.
If welding sounds like something you would like to learn more about then visit http://www.gowelding.org. All of the information is FREE with many hard-to-find guides. Check it out, don't forget to bookmark this indispensable welding guide, and pass it along to your friends!
###