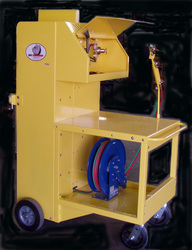 We are excited about adding the Gas Guardian welding cart to our product line
Bozeman, Mont. (Vocus) January 24, 2008
An enhanced safety welding cart patented by the U.S. Air Force Vandenberg Air Force Base Training Device Design and Engineering Center (TDDEC) to increase the safety and well being of airmen is now available commercially through Spika Welding & Manufacturing Inc. , Moccasin, Montana.
According to the U.S. Department of Labor, 15,500 welding accidents occurred nationwide from 1994 to 2001. Many of these accidents involved oxy-acetylene gas welding and cutting processes, which pose several safety hazards to technicians.
The new design for the Safety Welding Cart has significantly reduced the risk to the employees at TDDEC. This particular process improvement was rated as a "Best Practice" by the 2004 AFSPC IG ORI (Air Force Space Command Inspector General Operational Readiness Inspection) team. The system was submitted and accepted into the IDEA (Air Force Innovative Development through Employee Awareness) program for notable improvement, where it has been approved mandatory and recommended for wide use at the Space command level. It has been sent up to the Air Force Level at the Pentagon for further evaluation.
Oxy-acetylene cutting and welding sets are common in almost every industrial, con-struction, or maintenance shop in the world. Portable oxy-acetylene sets typically consist of a compressed gas bottle containing acetylene, stabilized with acetone and pressurized, along with one larger cylinder of industrial oxygen, compressed to 2500 psi. The industry standard for storage and portability has remained unchanged for years, utilizing a two wheeled "tip-back" style cart, with the two gas cylinders chained to a simple deck. On top of these cylinders are the exposed valves and regulators, with twin rubber hoses connected to a mixing valve and torch tips. The system is simple and inexpensive, but does little to minimize the various safety hazards inherent with the welding system and process.
Mishaps involving oxyacetylene gas-welding & cutting sets are often catastrophic and present significant hazards to personnel and aircraft/equipment in the area. If accidently tipped or knocked over, a 175-pound pressurized oxygen cylinder with a broken regulator or valve can jet away at more than 30 miles an hour with enough force and volocity to penetrate block walls, with potential to travel distances greater than a half-mile. Objects accidentally falling onto the welding set can result in unleashing a "missile" within the hanger or maintenance facility if the cylinder's valve or regulator are sheared off or damaged.
In addition to these hazards, the "tip back" style cylinder carts used since the early 1900's can be dangerous because the weight of the cylinders makes them difficult to balance and awkward to maneuver. Cylinders are typically held loosly with chains to the frame, and are completely exposed to potential falling objects. It is surprising that this primative cart has remained the industry standard for storing and transporting oxy-acetylene welders for since compressed gas first came into use.
The 25 to 50 feet of exposed rubber hose presents yet more safety concerns. Not only a trip hazard when excess hose is strung across the work area, sparks, hot slag and cut metal pieces often burn through the flexible fuel supply, igniting the acetylene as it escapes the damaged hose.
The US Air Force applied for a patent for the new safety-conscious system, and the Montana State University TechLink Center was able to bring the Air Force together with Spika Welding and Manufacturing Inc, a manufacturer in central Montana already producing numerous products for the military. In the fall of 2007, Spika received a license from the Air Force to manufacture the system, and, after some final modifications to the initial design, began production of what they have dubbed the "Gas Guardian."
"We are excited about adding the Gas Guardian welding cart to our product line," says Tom Spika, President of Spika Welding & Mfg Inc. "In visiting with numerous safety officers and maintenance personnel in the Army, National Guard, Air Force, Coast Guard – they all see the merit of this system, and are anxious to replace their out-dated systems. While the daily use of the oxy systems is fairly minimal, practically every facility has one and needs it on occasion. The hazards that the Gas Guardian can minimize far outweigh the cost. When one considers the potential damage and injuries associated with the old style carts, its obvious it is not worth the risk. One sheared-off valve can do a million dollars worth of damage, or worse, take a life."
The Gas Guardian comes complete with an industrial quality American-made cutting/welding kit, regulators, hose and self-recoiling hose reel, and high pressure supply lines that attach to the customer-supplied cylinders. Finish is powdercoated safety yellow, and the unit ships completely assembled. Soon to be available on GSA, the system can currently be purchased directly through Spika Welding & Mfg Inc. at http://www.spikawelding.com , or by phoning (406) 423-5678.
About Spika Welding & Manufacturing Inc.
Specializing in aluminum and polypropylene fabrication, Spika "sets the standards" in product development, design, and manufacturing. Spika utilizes the latest in 3D drafting technology, SolidWorks, to assist in creating complex and progressive products and equipment. Providing specialized equipment for the military since 2001, they offer a diverse product line, including:

OSHA-approved fall protection maintenance platforms for daily maintenance or full depot-level phase maintenance for several fixed and rotor-wing aircraft, including the AH64, UH60, CH47, and the CASA 235.
Customized welded polypropylene water tanks for fire and industrial applications
Foam Injection systems for fire control
Portable wash/reclaim systems for aircraft/equipment cleaning, noxious weed control, aquatic invasive species control
For more information on Spika Welding & Manufacturing, visit their website at http://www.spikawelding.com.
About MSU TechLink
TechLink is funded primarily by the Department of Defense to create high-value partnerships between that agency and private industry to develop and commercialize leading-edge technologies. TechLink is nationally recognized as an exemplary model of technology transfer. TechLink is located in the Advanced Technology Park near the Montana State University (MSU) campus and serves MSU as an outreach arm to the technology sector in the state and region. Visit the website for more information: http://www.techlinkcenter.org
CONTACT:
John Dennis, TechLink, Sr. Technology Manager, (406) 994-7707, jdennis @ montana.edu
Tom Spika, President, Spika Welding & Manufacturing, (406) 423-5678, tom @ spikawelding.com
# # #