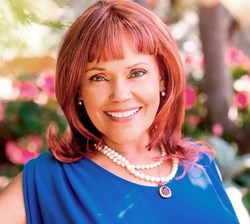 Awakening the divine, innate intelligence within each of us is the most important choice we can make for ourselves
(PRWEB) December 18, 2013
Luz Delia Gerber has a question for you: Are you living your own life?
Some live day after day in the same way they have year after year. Others live according to what someone else told them was "right" or "best."
When Luz Delia Gerber, the creator and CEO of Body Systems Design™, whose personal journey has inspired thousands, asks if you're living your own life, she wants to know if, as a living being, you are in touch with your innate godliness that directs healing, awakens intuition and creates sustained Well-Being.
That's why she is offering the latest "A Taste of Well-Being" course through Body Systems Design™. The goal of the 21-day online course is assisting and inspiring participants to discover the ability to transform their lives and own their wellness.
Gerber, whose husband Michael E. Gerber is the best-selling author of the E-Myth books that have made him the world's No. 1 small-business guru, said "A Taste of Well-Being" will show participants how to "discover the be-ing of being well."
"Too many people have lost their way," she said. "When you join us for 'A Taste of Well-Being,' you'll discover for yourself how some simple, sensible awakenings and adjustments can make dramatic differences in your health and Well-Being."
"A Taste of Well-Being" moves beyond health care, relationships, diet or exercise. It is a catalyst and inspiration for beginning the practice of Well-Being.
Luz Delia Gerber will lead each of the seven sessions of "A Taste of Well-Being" via webinars that can be watched again and again. Each session includes workbooks, free downloads and exercises, and comes with a lifetime guarantee.
Dr. Brian Clement, director of the Hippocrates Health Institute where Gerber was certified as an HHI health educator, will also participate. He is an internationally recognized expert on Well-Being and endorses "A Taste of Well-Being" course. (To see his endorsement watch this short video: http://www.youtube.com/watch?v=5haJWoYaBTw)
During the 21-day course, participants will learn ways to achieve an optimal work/life balance, renew vitality, minimize stress, promote stability, boost energy and achieve a greater sense of Well-Being through meditation, mind mapping and visualization. The facts — and fiction — of health will be explored, and resources provided to help people make their own informed choices.
For the low cost of $147, your entire family can register for "A Taste of Well-Being" at http://www.atasteofwell-being.com . This allows lifetime access and includes a year's access to "Body Systems Design Global Connect," an online community resource of a quarter-million practitioners of Well-Being — a $240 value that is free with paid enrollment.
"Awakening the divine, innate intelligence within each of us is the most important choice we can make for ourselves," Luz Delia Gerber said. "Join me on this journey."
About Body Systems Design™
Body Systems Design™ — A True Grass Roots Enterprise™ — is the brainchild of Luz Delia Gerber, who was given the mission a quarter century ago by Dr. Ann Wigmore, known as the "Mother of Wheatgrass Juice." Body Systems Design™ is different from any wellness company or health institution. The company is committed to touching and transforming the lives of every person on the planet by introducing a new definition of Well-Being. The company donates a percentage of every dollar it earns to its "Our Children ~ Our Future!™" Foundation.
Learn more at http://www.bodysystemsdesign.com