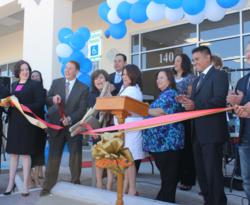 Tampa, Fla. (PRWEB) June 10, 2013
WellCare Health Plans, Inc. (NYSE: WCG), a leading provider of managed care services for government-sponsored health care programs, recently celebrated the grand opening of its Welcome Room in El Paso, Texas. WellCare's Welcome Rooms are neighborhood health care information, education and sales centers that are open to the public and staffed by WellCare associates to answer questions about Medicare health plans as well as eligibility.
At the May 31 grand opening celebration, WellCare welcomed more than 150 local residents, and local dignitaries including state Rep. Naomi Gonzalez of El Paso; Mark Ropella, Greater El Paso Chamber of Commerce; Brenda Negrete, El Paso Hispanic Chamber of Commerce; and Esteban Terrazas representing U.S. Rep. Beto O'Rourke of El Paso.
WellCare operates 15 Welcome Rooms throughout Florida, New York, Connecticut and Texas. They offer a comfortable environment where visitors can ask questions about health plans, find out if they are eligible for extra benefits, get online to search for more information and enroll in a WellCare health plan. This new facility will be a valuable resource for the approximately 61,000 Medicare-eligible residents of the El Paso area.
"WellCare's El Paso Welcome Room can provide seniors with crucial information about their eligibility for a range of health care options," said State Rep. Naomi Gonzalez, D-El Paso. "With the changes to our health care laws it's important that local residents have resources like this to get the answers they need about health plans, and I'm pleased WellCare has chosen to expand its operations in our community."
"WellCare's mission is to partner with health care providers, governments and communities to provide quality, cost-effective health care solutions," said Frank Heyliger, WellCare Southwest Region President. "Every day we have the privilege of helping beneficiaries in the El Paso area, and this facility will assist WellCare members, as well as seniors throughout the community, get access to the tools and information they need to lead better and healthier lives."
The address of the WellCare Welcome Room is 1700 N. Zaragoza Rd., Suite 140, El Paso, TX 79936. As of March 31, 2013, WellCare serves approximately 95,000 Texas residents who are enrolled in its Medicare Advantage and Medicare Prescription Drug programs.
For more information about WellCare and its products and services, call 1-866-765-4385 or visit http://www.wellcare.com.
About WellCare Health Plans, Inc.
WellCare Health Plans, Inc. provides managed care services targeted to government-sponsored health care programs, focusing on Medicaid and Medicare. Headquartered in Tampa, Fla., WellCare offers a variety of health plans for families, children, and the aged, blind, and disabled, as well as prescription drug plans. The company serves approximately 2.7 million members nationwide as of March 31, 2013. For more information about WellCare, please visit the company's website at http://www.wellcare.com.