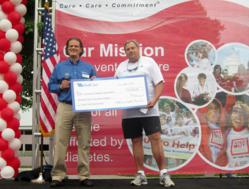 Tampa, FL (PRWEB) June 17, 2013
WellCare Health Plans, Inc. (NYSE: WCG) presented the American Diabetes Association (ADA) with $75,000 and had a walk team at the American Diabetes Association's Step Out: Walk to Stop Diabetes® event at Keeneland Race Course in Lexington, Ky. on June 1.
WellCare, in conjunction with the WellCare Community Foundation, is a sponsor of Team Red, which provides an opportunity for individual walkers in select cities to join a team in their area. This is the first of five Team Reds from around the country that WellCare is supporting with this $75,000 contribution.
"We wanted to support Kentucky's Team Red because of the impact diabetes is having on our members in the state," said Kelly Munson, WellCare of Kentucky Chief Operating Officer. "According to the 2013 Kentucky Diabetes Report, the prevalence of diabetes in the state is higher than the national average and has more than tripled since 1995. We all must do our part to help our family and friends fight this serious disease."
As part of its efforts, WellCare identifies members with diabetes and performs outreach using a team of registered nurses and health professionals with clinical experience with the disease. WellCare also provides education and health coaching to members and their caregivers, empowering them to make behavioral changes, self-manage their condition, and ensure the choices they make will improve their health and quality of life, and reduce medical costs.
"With more than 400,000 Kentuckians living each day with diabetes, we're asking the community to come together to help change the future," said Jerry G. Hale, Step Out Corporate Chairman. "Diabetes is a devastating disease that touches us all."
As of March 31, 2013, WellCare serves approximately 242,000 Kentucky residents who are enrolled in its Medicaid and Medicare Advantage plans.
About WellCare Health Plans, Inc.
WellCare Health Plans, Inc. provides managed care services targeted to government-sponsored health care programs, focusing on Medicaid and Medicare. Headquartered in Tampa, Fla., WellCare offers a variety of health plans for families, children, and the aged, blind, and disabled, as well as prescription drug plans. The company serves approximately 2.7 million members nationwide as of March 31, 2013. For more information about WellCare, please visit the company's website at http://www.wellcare.com.
About the WellCare Community Foundation
The WellCare Community Foundation was established in 2010 and is a non-profit, private foundation. Its mission is to foster and promote the health, well-being and quality of life for the poor, distressed and other medically underserved populations - including, those who are elderly, young and indigent - and the communities in which they live. The WellCare Community Foundation carries out this mission by supporting work that helps people live healthy, safe and productive lives, and by assisting groups with serious and neglected health needs. Underscoring this mission is the WellCare Community Foundation's goal to serve as a national resource that fosters an environment where there is a continuum of education, access and quality health care, all of which improve the overall health, well-being and quality of life of targeted beneficiaries.