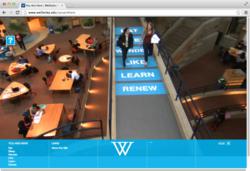 According to Wellesley's Office of Admission, 60 percent of admitted students cited their campus visit as a significant factor that influenced their decision to apply and enroll.
Wellesley, MA (PRWEB) April 13, 2013
As high school seniors make their final college decisions, and many families tour campuses this week, one leading liberal arts college has devised an innovative way to make a great first impression—provide a candid, insider's view of life at Wellesley.
Wellesley College has done away with creaky slideshows narrated in "college speak" in favor of presenting the real-life activities and circumstances that most Wellesley students will encounter—through the lens of what matters most to them. Known for its track record of cultivating women leaders, Wellesley will also provide a glimpse of where famous alums, be it Diane Sawyer '67 or Daisy Gardner '97 (writer for 30 Rock) lived, studied, and played as Wellesley students.
The site, called "You Are Here," invites young women to picture themselves at Wellesley. Want to explore the lakeside dorm where Hillary Clinton lived as a budding activist? Check out the artifacts of Wellesley classrooms? Or maybe take an up-close look at actual meals made from the raw food station or ice cream bin? It's all virtually possible at Wellesley's site.
What makes the "You Are Here" experience feel so real is its navigation, which is built into the real world. Visitors to the landing page have a live window onto life at Wellesley, specifically a view into the Science Center. From within that space, visitors can click on different areas of student life at Wellesley. Meanwhile, real people in real time may be strolling across the "buttons"—which are actual vinyl mats installed on the floor of the walkway above the main gathering space. The user experience that results is engaging and almost metaphysical: Are people walking through your computer screen, or are you (and your mouse) making your way through their space?
Why "You Are Here"?
According to Wellesley's Office of Admission 60 percent of admitted students cited their campus visit as a significant factor that influenced their decision to apply and enroll. And while "You Are Here" doesn't replace the experience of an in-person visit, it does offer interested students a chance to picture themselves at Wellesley, and to spend time exploring life at the College as they contemplate their college choices.
As Wellesley planned the redesign of its website in 2011, the College interviewed current and prospective students about what they looked for in a college website. What they heard over and over: students universally dismissed virtual tours as "boring and dumb."
Most top colleges have an advanced library, an active gym, a bustling student center, and impressive learning facilities--but after "touring" several virtually, they can all seem to blend together. Some virtual tour companies even feature the same actors, posing as "student guides" for multiple schools. But what students really wanted to know came down to: What will I eat? Where will I sleep? Is it fun? Will I fit in? In other words—they seek an authentic, straightforward view of what they'll experience in those four years.
Sandra Kendall, Wellesley's director of online communications, said, "We have attempted to put the virtual back in virtual tour: giving users an exquisite taste of what it's like to be a student at Wellesley—the choices, opportunities, everyday moments, and quirky distinguishing features (including people) that make it different from anywhere else."
About Wellesley College
Since 1875, Wellesley College has been the preeminent liberal arts college for women. Known for its intellectual rigor and its remarkable track record for the cultivation of women leaders in every arena, Wellesley—only 12 miles from Boston—is home to some 2300 undergraduates from every state and 75 countries.