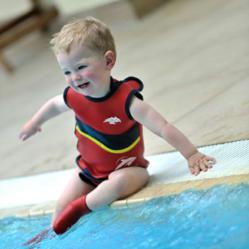 Where the Konfidence wetsuits really take off is in terms of style and ease of use.
Bristol, UK (PRWEB) June 01, 2012
The recent summer heatwave has seen a surge in demand for the ever-popular Konfidence wetsuits from online UK-based children's outfitters Wellies and Worms.
The Bristol-based ecommerce retailer now stocks two of the manufacturer's family favourite ranges – the Konfidence Babywarma Wetsuit and the Konfidence Shorty. Both styles come in a range of colours to suit either boys or girls from babies right up to 12 years of age.
The Konfidence Babywarma Wetsuit has already won the prestigious title of Gold Winner for Best Safety Product at the influential 2011/12 Mother and Baby Awards in London. Organised by the Mother & Baby Magazines and sponsored by Tesco, the awards are regarded as the 'Oscars of the nursery industry' and are judged by parents themselves.
Wellies and Worms owner Graham Cox said: "We weren't really surprised at the rush on the kids wetsuits considering the weather and, of course, the Konfidence reputation. Winning the Mother and Baby Awards put the wetsuits right up there at the forefront of parents minds when it comes to a safe and comfortable costume for their little ones. Where the Konfidence wetsuits really take off is in terms of style and ease of use. And we're finding older children just love the Shorty style which comes in girlie pink or blue for a boy."
The Babywarma Wetsuit is available in sizes 0 to 6 months and 6 to 12 months. One of the key features is that the wetsuit opens fully so that baby can be placed inside without any difficulty or discomfort. The 2mm thick neoprene material is excellent for keeping baby warm and comfortable in the water and is flexible enough for paddling and swimming. There are also adjustable Velcro fasteners which makes normally awkward nappy changing straightforward. In addition, the shoulder straps can adjust to suit babies of any size.
The very trendy Konfidence Shorty has already proved a winner amongst older children. Available for ages seven to 12 years, it feautres flatlock stitching so there's no itchy and uncomfortable seams for children to contend with. Velcro fastening and a long zip at the back of the suit makes it easy to take on and off while 100 per cent UV protection means parents don't have to worry about the dangers of sun damage. The Shorty is made of 3mm neoprene which guarantees warmth in the water, encouraging children to stay in for longer and play.
Konfidence wetsuits can be viewed and ordered online at welliesandworms.co.uk . They offer free returns and free next working day delivery on orders over £30. The retailer, which celebrated it's 3rd birthday last month, has grown to become one of the UK's leading childrens outdoor clothing retailers.