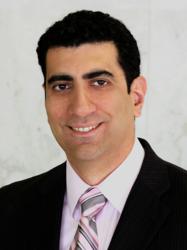 Knowledge is power," Dr. Tabib said. "We love sharing information with people in the community so that they can take charge of their own health and prevent some health problems that are easily treatable when discovered in early stages
Los Angeles, California (PRWEB) July 13, 2012
La Peer Health Systems is an outpatient surgery center in Beverly Hills that prides itself on patient care. One of the best ways to improve patient care is to spread awareness. Two La Peer surgeons, Dr. Babak Larian and Dr. Siamak Tabib, did just that on Tuesday, July 10th when they hosted a wellness program at Concord Music Group in Beverly Hills.
Dr. Larian, board-certified in Otolaryngology (head and neck surgery), talked about allergies and sinuses while Dr. Tabib, board-certified in Gastroenterology and Hepatology, discussed colon cancer prevention. The message from both doctors was clear: preventative care is the most effective medicine.
"Knowledge is power," Dr. Tabib said. "We love sharing information with people in the community so that they can take charge of their own health and prevent some health problems that are easily treatable when discovered in early stages."
With catering provided by California Pizza Kitchen, each doctor took turns speaking on their particular specialty and answered questions afterward in a Q&A session. Concord Music Group employees learned the benefits of early detection of colon cancer (very treatable if discovered in early stages) as well as ways they could avoid allergies and sinus problems in their every day lives without needing, possibly expensive, services from a physician.
Concord Music Group (CMG), formed in 2004 with the merger of Concord Records and Fantasy Records, holds several wellness programs throughout the year and encourages their employees to attend them. With speakers ranging from dentists to dermatologists to bicycle experts, Concord Music Group believes that healthier employees lead healthier lives. This made for a perfect match -- the health-conscious record label and innovative doctors looking to promote health and wellness in the community.
La Peer Health Systems focuses on excellence in patient care and offers the most advanced and contemporary treatments and equipment that the medical world has access to. With 42 doctors across 13 departments, from anesthesiology to urology, La Peer offers comprehensive and widespread medical treatments for all patients. More information about La Peer Health Systems can be found at http://www.LaPeerHealth.com.