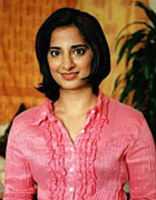 We hope to be a one-stop shop by weeding through the myriad content sources out there and bringing our members only the best.
Santa Monica, CA (PRWEB) October 28, 2008
Whether you want to find balance in your life, be a better parent, live more "green" or help bring about world peace, a new site, Intent.com, can help you achieve your aspirations. Featuring a supportive community of like-minded members, blogs from top wellness experts, and curated online content on personal, social, and global wellness, Intent.com is your one-stop-shop for the best content in the wellness category.
Co-founded by Deepak Chopra's daughter Mallika Chopra, together with former Yahoo Executive Sal Taylor Kydd, the site aims to be the most trusted and comprehensive wellness destination for capturing and supporting people's intentions and helping them to reach their goals in the key categories of Health, Relationships, Balance, Success, Causes, Planet, and Spirit.
"As the daughter of Deepak Chopra, I've been fortunate to interact with inspiring leaders, thinkers, celebrities, and individuals who are devoted to a healthy, humane society and planet," states Mallika. "My hope is that Intent - by bringing these voices together for a larger community -- can be a socially conscious business that brings together a global community to inspire, educate and connect."
Intent.com features include:

OVER 200 INTENT VOICES--featuring blogs from well-known luminaries such as Deepak Chopra, Larry Dossey, Olivia Newton John, Ed Begley Jr., Debbie Ford, Fran Drescher, Don Miguel Ruiz, Joan Borysenko, life coach Laura Day, Russell Simmons, Project (RED) founder Tamsin Smith and more.
DAILY FEATURED ARTICLES AND BLOG POSTS -The best wellness articles and content from across the web carefully aggregated and curated from leading online sources such as Good Magazine, BeThree, Treehugger, VitalJuiceDaily, Beliefnet, DailyOm, Causecast, and major newspapers and publications.
DYNAMIC SOCIAL NETWORK - The Intent community enables members to find other users with similar interests in the wellness space, and find support in fulfilling their aspirations. Members can post personal blogs, find new like-minded friends, share information, and get updates from their friends about their online activity on Intent.
PERSONALIZATION - Through sharing their personal "intents" users receive personalized content tailored to their interests, that they can access either by visiting Intent.com, or by signing up for the relevant email digests.
Additional feature include the Question of the Day where Intent editors ask a topical question to the Intent audience each day; the Featured Video of the Day showcasing the best wellness videos on the Web, as well as hand-picked book and product recommendations in the wellness category.
According to Intent.com co-founder Sal Taylor Kydd, "We wanted to help people find content around their intentions in an easy and fun way. By pushing relevant content to members, Intent.com offers an efficient tool for realizing your goals," explains Sal. "We hope to be a one-stop shop by weeding through the myriad content sources out there and bringing our members only the best."
Intent.com will also syndicate their content and campaigns to other like-minded sites. The first campaign, entitled Breast Cancer: Healing the Whole Woman, has been syndicated to Beliefnet, Yahoo Shine, Care2.org, Huffington Post, and MarthaStewart.com.
What do you aspire to be? Share your dreams, inspire others and find support at Intent.com.
For more information visit http://www.Intent.com
MEDIA: For interview request or more information, lease contact Jill Mangino Jill(at)circle3media.com / (908) 637-6022 or email press(at)intent.com .
###