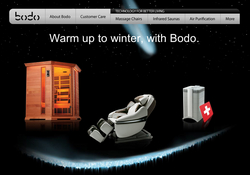 Calgary, Alberta (PRWEB) December 19, 2008
Supported by nearly two years of research across three continents, Bodo has opened its first retail store in Calgary's design district, one step closer to retailing its novel blend of health and technology across Canada.
"We saw a niche in consumer health technologies that were proven extensively in other markets, but not yet supported in Canada by a strong partner," says Jason Quiring, CEO. "For example, the current state of robotic massage technology is far beyond what the average person realizes -- you really have to try it to believe it. But we had to spend a lot of time in Japan to figure out what was best, and how to make it accessible to Canadians." The final roster of Bodo product partners includes the original inventors of robotic massage chairs and home air purifiers, as well as leaders in infrared sauna technology and stress-relief biofeedback devices.
Bodo is the second company to be launched by the Quiring family. Cover-All Building Systems Inc. of Saskatoon, Saskatchewan, started in 1994 by Richard Quiring, Chair of Bodo, created a new category of building structures and has since grown to over $100m in annual sales.
The research process was extensive. In the case of infrared saunas, an engineering team was assembled at the Bodo Asia development base where prototypes were developed, manufacturers vetted, and wellness theories tested. Quiring says this level of investment in research was necessary to bring on board the calibre of partners they were looking for. "Our air purification partner actually invented the home air purifier 40 years ago in Switzerland, and their system was used in hospitals during the SARS crisis in Hong Kong. We were surprised that Canada was being overlooked when it comes to technology like this, and decided to work hard to close that gap."
Faced with an economic downturn, Quiring recognizes that it is tough out there. "People are stressed and suffering from tension and not enough rest. Again and again we have customers tell us how much better they sleep after using our technology. But economic conditions make it crucial for us to get pricing right; if we had chosen the wrong distribution model, we may have been forced to increase prices beyond what a family can afford. By focusing on our own stores and direct sales, we can deliver high-end service without the typical price tag that comes with luxury."
About Bodo:
Bodo is a wellness technology firm specializing in robotic massage chairs, infrared heat therapy and air purification, serving customers at The Bodo Store in Calgary and online at http://www.bodo.ca.
###