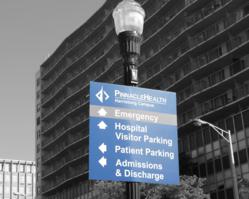 We selected Wellness Layers because they're not the typical hospital web design company creating the same information laden sites
(PRWEB) February 16, 2011
Harrisburg, PA PinnacleHealth, the largest hospital system in Central Pennsylvania, and Wellness Layers, Inc., a leading provider of online and mobile health community portals, today announced a partnership to transform PinnacleHealth's website into a patient-centric, health 2.0 destination.
"We selected Wellness Layers because they're not the typical hospital web design company creating the same information laden sites," stated Joel Arker, Director of Strategic Technology Services at PinnacleHealth. "We are determined to offer our patients greater support and ease to provide the same great reception and care online as we do in the hospital".
The newly renovated website will implement Wellness Layers 'Me, We, Info' approach to patient engagement architecture: The 'Me' layer will allow patients to build a personal profile, and access their own medical records. The medical records access is done in cooperation with MobileMD, a Pennsylvania based HIE provider. The social component, the 'We' layer, will allow patients to interact via department specific discussion boards, send messages, comment on blogs, as well as recommend doctors. The features were selected to encourage patients to exchange ideas, share experiences and seek support through a secured online community. Lastly, the 'Info' layer will feed patients with highly personalized and relevant updates and information aggregated in a timely manner customized according to user profile, preferences, use, location, and interests as well as establishing micro-sites for key departments.
"Our new site is a continuation and reflection of the passionate and exceptional care our staff provides our patients," stated Christina Persson, Director of Marketing at PinnacleHealth. "We'd like to cushion the experience with a friendly and supportive architecture to access our information."
"The goal is to create an online environment surrounding our patients' needs so that when they visit the site they'll think, wow, I can do that!?" explained Shelley Marshall-McCown, PinnacleHealth's Web Marketing Coordinator and one of the conceivers of the site revamp.
"We are impressed by the vision PinnacleHealth has for their new site and proud to be selected in building the value-rich online hospital experience. The new standard is being set for what patients can do, and will evolve very much like how consumers now choose their banks partially based on how much the online banking systems are seamlessly integrated and easy to use," Amir Kishon, PhD, CEO of Wellness Layers.
The newly designed PinnacleHealth site is expected to launch in the summer of 2011.
About PinnacleHealth
PinnacleHealth is the leading hospital and healthcare system in Central Pennsylvania, offering medical services such as maternity, neurology, cancer care, cardiac, surgery and imaging. As a non-profit organization located in Harrisburg PA, PinnacleHealth is dedicated to the health and wellness of the community we serve, having a long tradition of quality care dating back more than 130 years.
About Wellness Layers, Inc.
Wellness Layers is a leading provider of online and mobile customer and patient portals creating deeper engagement for healthier lifestyles. The Wellness Layers platform includes a suite of personal applications, social connectivity, and personalized content specifically honed for the special needs of health and wellness companies. The deeper engagement achieved with the Wellness Layers Platform supports efforts for prevention, adherence, weight loss, condition management, and lifestyle modification. Wellness Layers offers special platform editions for the healthcare, nutrition and diet, fitness, pharmaceutical, employee wellness, healthy lifestyle and ecommerce markets. Additional information can be found at http://www.wellness-layers.com.
# # #