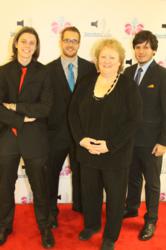 I can't help but be amazed by how many people came together to mentor and impact Anne's life over a period of many years. I see it as God's grace and it has been a joy to be part of this journey.
West Chester, PA (PRWEB) May 31, 2012
The film crew of the independent documentary feature film "Well of Dreams: The Journey of Anne Okelo" has been on their own journey for the last year. When the small team decided to do their first documentary it was because they found themselves inspired by a story. The story of a woman with a dream. What they didn't know is where that story would lead them. Now less than one year later the film is finished and through the story of this remarkable woman, Anne Okelo, thousands of women's lives are being touched in positive ways. More than anything women in Anne's village and surrounding villages are being encouraged to stay in school and get their education so they are not trapped in a life of illiteracy, poverty and abuse.
Recently the Well of Dreams team held a red carpet film premiere at Milestone Events in West Chester, PA that was planned by Katie Dewan, who was moved by Anne's story and set her sights on creating a memorable event. The goal of the premiere was to honor and thank the family, friends and supporters that were such a part of the journey. According to Cindy Speaker, a Co-Director of the film, "what was really awesome the night of the film premiere was to connect with some of the people that had touched Anne Okelo's life in a big way before we ever got involved."
One such person was Angela Howard who mentored Anne while she was at West Chester University. Another was Warren Callaway who also mentored Anne during that time. And then there were employers, co-workers, and friends that came alongside Anne on her journey and cheered her on. Today Anne is back in Kenya impacting a generation of young women and girls by empowering them with education and resources to help them move beyond a life of abuse and despair.
Because of the film, a non-profit, Well of Dreams Inc, has been formed to tell other women's stories and to partner with other organizations to do the work in Africa and other parts of the world.
"Well of Dreams" was produced by Speaker Films. The company is already in preproduction on their second film which will endeavor to raise awareness about human trafficking in the US.