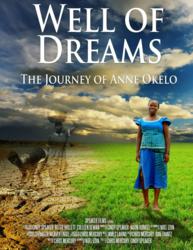 With God all things are possible
West Chester, PA (PRWEB) October 31, 2012
Anne Okelo is the subject of the 2012 documentary feature film "Well of Dreams: The Journey of Anne Okelo." It is a film about an inspiring woman from Kenya that made her way to the United States through great sacrifice and hardship.
Through the support, and mentoring of Retired Hospital CEO Warren Callaway, Assistant Director of International Studies at West Chester University Angela Howard, and West Chester University, Ms Okelo eventually earned her master's degree before returning to her homeland of Kenya to mentor, empower, and help her people.
It is a great credit to all involved to share in this powerful and uplifting story. Not only was Ms. Okelo mentored but she has now become a mentor to women and girls in Kenya.
To learn more about the film or purchase a DVD of the film, visit http://www.WellofDreamsMovie.com.