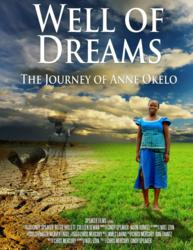 Please help us get the word out to women passionate about making a difference in the empowerment and education of women in third world countries - by posting this event to DC Area Calendars for August 29, 2012 at 6 PM at The National Press Club.
Washington, D.C. (PRWEB) July 29, 2012
When Secretary of Education Arne Duncan presented high school senior Dan Frantz with a gold medallion for being one of just twenty 2012 US Presidential Scholars in the Arts, it was almost surreal.
Less then one year earlier Dan had been part of a small film crew that traveled to Kenya to tell the story of an inspiring Kenyan woman, Anne Okelo. Anne had grown up in Kenya as a societal outcast primarily because she refused forced marriage at age fourteen and had insisted on getting her education. She became the first girl in her village to get a high school diploma and later became one of three women in her class to graduate from the University of Nairobi. Several years ago Anne received her master's degree in non-profit administration at West Chester University in West Chester, PA. While a student at the university she was mentored by several community members and became an active attender at a local church. Together Anne, and the many people that had grown to love her, embarked on a plan to raise the money to build a well in her village back in Kenya.
Young Dan got involved when his boss, Cindy Speaker, of Speaker Media and Marketing decided to do a documentary about Anne. The film is "Well of Dreams: The Journey of Anne Okelo." She had gotten to know Anne while they both attended the same church. Cindy suggested to Anne that making a documentary might give Anne a more public platform to do her work. And that it has.
Earlier this summer the sizzle reel for the film screened at The Smithsonian American Art Museum for several weeks. Dan Frantz, a key member of the film crew was honored as a US Presidential Scholar and his award brought increased exposure to the film through the National Young Arts Program. And on August 29, 2012 at 6 PM the film will be screened in its entirety at The National Press Club. Tickets for the event are $10 and can be purchased online at http://press.org/events/well-dreams-film-screening. The public is welcome to attend.
Following the screening there will be a moderated panel discussion with the filmmakers and we invite those interested in water issues, women's issues, global disease prevention, HIV AIDs prevention, and the empowerment and education of women - to attend and participate in the discussion.