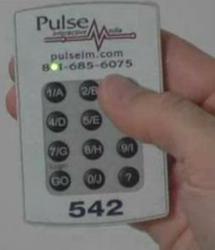 Using small wireless keypads or a smart phone, participants anonymously respond to multiple choice questions displayed on the meeting screen.
- Wendy Azad, CEO
Murray, UT (PRWEB) April 17, 2012
Pulse Interactive Media used small wireless keypads and their extensive meeting design experience to help Wells Fargo executives solicit anonymously obtain vital opinions and feedback from members of the Wells Fargo merchant services team at a high level strategy meeting at Wells Fargo headquarters in San Francisco in March, says Wendy Azad, founder, owner and CEO of Pulse. "Pulse Interactive's audience response system allowed meeting attendees to interact anonymously with the presenters and provide input that they typically would not provide in a face-to-face verbal communication," continues Ms Azad.
Pulse Interactive Media's consultative approach to designing a meeting begins with a thirty minute telephone call or face-to-face meeting where a series of questions are asked with the objective of understanding the client's goals and needs for the upcoming meeting. Based on that initial meeting and the services chosen, Pulse Interactive works closely with the client throughout the process of designing the event. Ms Azad notes that, "Our process worked nicely for Wells Fargo. We updated the Wells people regularly on the progress of the meeting design. A few days before the event we submitted the presentation for final approval and subsequently made a few edits. On the day of the event our technical support was on site, if needed. Following the meeting we compiled the results of the meeting into reports that were available to the Wells Fargo leaders almost immediately."
In addition to their anchor audience response system service, Pulse Interactive has a number of other related products and services that include their Link2 technology which allows a member of an audience to send a text and receive a link to additional information being discussed in the presentation, ballot counting, interactive entertainment, and smart phone polling.
Pulse Interactive Media was formed in 2006, and has grown significantly by serving companies, political organizations and various other groups across the United States.
Media Contact: Wayne Beeson