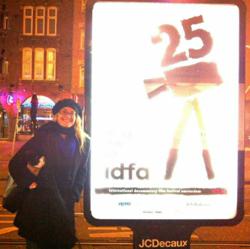 Thank you - for a film I will never ever forget, in my entire life.
Los Angeles, CA (PRWEB) December 24, 2012
Award winning Australian filmmaker Wendy Dent, currently serving as Visiting Scholar at University of Southern California (USC) School of Cinematic Arts, has wrapped a break-out year with acclaim for the IDFA world-premiere of her Christmas film 'December 25'.
Renowned as one of the most prestigious film festivals, the International Documentary Film-Festival Amsterdam (IDFA) is also the world's largest festival for documentaries. Dent's short film on Christmas, titled 'December 25', premiered on November 15 as one of 15 films from around the globe selected for IDFA's special 25th anniversary 'One Minutes' program of one-minute films on the theme 25.
The synopsis for the film is fittingly brief, 'a Christmas message speaks louder than words', but beyond that the director remains tight-lipped on the topic.
"The context of the film is Christmas. But it's about much more than that", Wendy Dent says, hinting that 'December 25' is a human rights film, for which her work is known. "The log-line is 'A Christmas message speaks louder than words' because the film is also about subtext, and the things we don't say at Christmas. There is subtext even in the logline- because it's difficult for me to say anything about a one minute film without giving away a spoiler!"
Amsterdam's largest newspaper, Het Parool, reviewed the film as a jewel of the program, with its film critic Mark Moorman writing that the film compares to a Cannes award-winning film in just 60 seconds.
While the film was not eligible for prize nominations at IDFA as it was not in a competitive program, Wendy Dent received vigorous applause at the screenings. She also proved she had won over her audience with the first comment at a post-screening discussion: "Thank you - for a film I will never ever forget, in my entire life."
Celebrated Russian director Victor Kossakovsky has since written to Dent stating "I like it!". John Dentino (director of the IDFA premiere 'For I Know My Weakness) commented that 'December 25' is "the perfect one minute film." Professors at the USC School of Cinematic Arts also called the film "brilliant" , and "very powerful - It speaks directly to the power of words. So much communicated in just a few sentences."
Wendy Dent "created a meme", and an experience which surpassed even its buzz, stated Slavko Martinov (director of IDFA premiere 'Propaganda') in describing the film's response. "I had a laugh the other day when people around me asked what I was doing for Christmas and I said, deadpan, 'December 25 will never be the same again' and they all wondered what I was talking about. I could never have imagined a one minute doco would change how I think about something for the rest of my life but it has. That's a hell of an achievement."
The film's premiere wraps a break-out year for the writer-director, who has been guest-speaking at Ivy league universities and serving for the full academic year as Visiting Scholar at University of Southern California (USC) School of Cinematic Arts, the world's top ranked film school.
Dent was published this year in The Independent, Universal Film Magazine and commissioned as a contributing writer to The Encyclopedia of Social Media and Politics. She was awarded grants for her USC position by the American Australian Association's Dame Joan Sutherland Fund, the Ian Potter Cultural Trust for artists of exceptional ability, and from Screen Australia to assist her travel to Amsterdam for the IDFA 'December 25' world premiere.
Her travels took her also between both East and West coast USA. In 2012 Wendy Dent was a guest-speaker at Harvard, Columbia University, Stanford and University of California Berkeley special screenings of her Zimbabwe human rights documentary 'No News From Harare', as well as a guest-lecturer for USC's School of Cinematic Arts advanced documentary course. "And next year looks set to be just as busy" she says.
Dent hopes 2013 will also bring further international premieres of 'December 25'.
Further information on Wendy Dent and 'December 25' can be found at http://www.wendydent.com and http://www.humanrightsonfilm.com