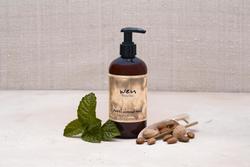 I've become a true fan of Wen® and I am so excited to see that the beauty experts at Shecky's are believers too! Everyone should try the Wen® products for themselves and experience the difference. Your hair will thank you
Palm Desert, CA (PRWEB) October 9, 2009
Wen® Cleansing Conditioner has been awarded the coveted Shecky's Beauty at Its Best Award as 'Best Shampoo and Conditioner."
Wen® was created by celebrity hairstylist, Chaz Dean. The Wen® Cleansing Conditioner is a unique approach to cleaning and conditioning hair in single-step process. Made with natural ingredients and avoiding, harsh chemicals and detergents which may be found in other ordinary shampoos, the Wen® haircare system is a revolutionary way to cleanse hair.
"I've become a true fan of Wen® and I am so excited to see that the beauty experts at Shecky's are believers too! Everyone should try the Wen® products for themselves and experience the difference. Your hair will thank you," said Jennie Garth, celebrity spokeswoman and personal fan of the haircare line.
Shecky's team of beauty editors reached out to their rolodex of beauty experts and the beauty-pundit-team comprising the Shecky's Beauty at Its Best Committee to select the best products in an array of beauty categories with more than 2,000 individual entries. Among only 300 products selected, the Shecky's experts say "we love the way this sweet almond oil product cleans and conditions, all while leaving us smelling sweet," regarding the Wen® Cleansing Conditioner.
About Wen®:
Wen® by Chaz Dean, made with natural ingredients, avoids sodium laurel sulfate and other detergents usually found in ordinary shampoos-- it is designed so it won't strip your hair and scalp of their natural oils. The Wen® Cleansing Conditioner is a single-step product that cleanses with astringent and antibacterial properties and does not lather but rather feels like a thick conditioning treatment on the hair. Wen® offers sheen, luster, moisture, manageability and better color retention.
Follow Wen® on Facebook to find out about news and special offers. For more information about Wen®, visit WenHairCare.com
About Shecky's
Shecky's is an online and event destination for what's cool and undiscovered in FASHION, BEAUTY and FUN with the girls. From emerging designers to great beauty discoveries, delicious cocktails to free giveaways-- Shecky's offers a wonderland for girls to SHOP, SAMPLE & SCORE the world of things girls love.
###