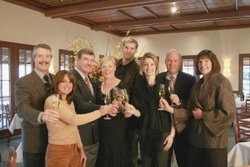 Discover the Wine, Discover the Music
LIVERMORE VALLEY, Calif. (PRWEB) February 28, 2008
-- 125th Anniversary Celebration weekend on May 3 - 4, which falls on the 125th day of the year
-- The launch of Phase II of the winery's "Discover the Wine, Discover the Music" sweepstakes and national promotion
-- In Celebration of The Course at Wente Vineyards' 10th Anniversary, The Course will host the Livermore Valley Wine Country Championship, the fifth stop of the PGA Tour's 2008 Nationwide Tour
-- The Concerts at Wente Vineyards 125th Harvest Concert in September
-- The Restaurant at Wente Vineyards' year long Prix Fixe $125 Couples Menu
Founded in 1883 by German immigrant Carl H. Wente, Wente Vineyards is the longest continuously operated family owned winery in California. The winery survived Prohibition in the first half of the 20th Century, and, in the new millennium, held fast through the massive sell-off of family wineries to multinational corporations. Along the way, the family pioneered varietal labeling, protection of open agricultural space from urban sprawl, and the visionary development of its lifestyle businesses, including fine-dining, live music venue and championship golf--without losing sight of farming roots, sustainability and commitment to the regional community. Today, nearly 80% of all Chardonnay planted in California is derived from the Wente Clone. Coincidentally this year, the Culinary Institute of America (CIA) has announced the induction of Wente Vineyards' founder, Carl Heinrich Wente, into the Vintners Hall of Fame as a "Pioneer" on March 7th.
Interviews with Fourth and Fifth Generation Wente family members and Hi-Res photos available upon request. Events will be posted at http://www.wentevineyards.com/events.asp reservations/tickets are made available.
About Wente Vineyards
2008 marks Wente Vineyards' 125th Anniversary. The country's oldest continuously operated family-owned winery, Wente Vineyards is led today by the fourth and fifth generations of the Wente family. Blending traditional and innovative winemaking practices, the winery draws from 3,000 acres of sustainably farmed estate vineyards to create an outstanding portfolio of wines. Located just east of San Francisco in the historic Livermore Valley, Wente Vineyards is recognized as one of California's premier wine country destinations, featuring wine tasting, fine dining and championship golf.