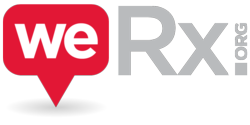 The official launch is a huge step toward connecting consumers to the prescription price information and savings they need
Charlotte, NC (PRWEB) April 23, 2013
WeRx, a leader in prescription drug price comparison, today announced the launch of WeRx.org and the WeRx mobile application. Access to these platforms, which include pharmacy price transparency as well as negotiated instant discounts, is now available at no cost for all US consumers. The launch of these platforms is a major milestone in the WeRx commitment to impacting the pharmaceutical and health care industries for the better.
"The official launch is a huge step toward connecting consumers to the prescription price information and savings they need," said Ali Khoshnevis, CEO at WeRx. "We started this company after being doctors in the trenches for many years and watching patients suffer simply because they can't afford their medications. This is one of the last industries where consumers have not had easy access to price comparison tools and we have changed that today."
This launch comes on the heels of WeRx's success in multiple StartUp competitions including Distilled Intelligence, StartUp RockOn and Reboot America where WeRx won the honors as top company in the National Challenges category. Most recently, WeRx was announced a finalist in the Charlotte Venture Challenge and will compete head to head with other finalists from the South East on May 1st, 2013 at the NASCAR Hall of Fame in Charlotte, NC.
"It is a very exciting time for WeRx," said Khoshnevis. "We have a lot of positive momentum and have been extremely pleased with the recognition but we are keeping our focus on solving the problem. 100 million Americans lack prescription coverage or are underinsured and are at risk of not being able to afford their medications. Our goal is to leverage the power of consumer choice to create a more fair, open and transparent system for prescription meds. We sincerely believe that by empowering consumers and doctors with pricing information, we can allow patients to stay on their medications and remain healthy."
About WeRx
WeRx helps millions of people find the most affordable price for their prescriptions at local pharmacies while also providing instant medication savings. WeRx's easy to use, proprietary application allows consumers and doctors to quickly search by medication and location to find which local pharmacies have the lowest prices. WeRx was recently recognized as competition and challenge winners at Reboot America and StartUp-RockOn as well as placing as a Top 10 company in the Distilled Intelligence competition. WeRx has advanced to the finals of the Charlotte Venture Challenge in Charlotte, NC and will compete with the other finalists on May 1st, 2013.
For more information, visit http://www.werx.org. You can also follow WeRx on Twitter and Facebook. You can download the WeRx mobile app through the itunes app store. For press inquiries, please submit all requests to info(at)werx(dot)org.