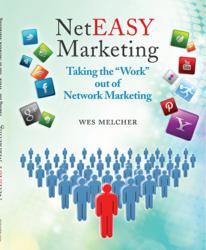 "NetEASY Marketing" is the BEST New Book for Network Marketing and DIrect Sales
Plano, TX (PRWEB) November 01, 2012
Wes Melcher, a native of Texas, has been one of the top performers and leaders in the industry for more than 15 years and he has drawn from his many experiences to develop the message of the book so that he could teach others how to live out their dreams.
"I wrote this book to be a comprehensive guide for those who believe in their product or service, and want to have a sustainable business," said Melcher. "It provides page after page of tips, game plans and ways to connect with and retain a team of motivated professionals."
"NetEASY Marketing" has received accolades and endorsements from top distributors and leaders from some of the largest Direct Sales companies on the planet, including Avon, Amway, Herbalife, ViSalus, WorldVentures, Ambit, Vector Marketing, Organo Gold and Mary Kay.
"Everyone who wants to grow their Direct Sales or Network Marketing business will benefit from 'NetEASY Marketing,'" said Melcher.
Matt Morris, best-selling author of "The Unemployed Millionaire" said, "This is the BEST book for people wanting to use new technology and social media to build their Network Marketing business. Wes Melcher takes the Direct Sales and MLM industry to a whole new level in this guide to building a Huge Global Business!"
Steve Thompson, multi-million dollar earner for Ambit energy, and prominent author said, "Having worked with Wes a few years ago, I knew he had the ability to give readers the Cutting Edge Skills that he perfected while building a Multi-Million Dollar Business. His understanding and analysis of techniques from Grand Openings and Leadership Development to the best explanation of MLM-Specific Social Media is sure to improve the career path of the thousands that join our world of Entrepreneurship. The New Age of Network Marketing is here and 'NetEASY Marketing' is a great guidebook to Success!"
To find out more about Wes Melcher or "NetEASY Marketing" visit http://www.WesMelcher.com