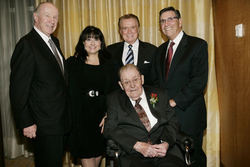 We are so grateful to our sponsors and donors for their continued support
New Rochelle, NY (Vocus) November 3, 2010
United Hebrew of New Rochelle, a premier long term care campus of residences and services, recently held its 91th Annual Gala Celebration at the Ritz Carlton Westchester in White Plains. United Hebrew Board of Directors member and Mt. Vernon resident, David Alpert, was given the Humanitarian Award. Scarsdale resident, Leonard Tanzer, President of Patient Care Associates, Inc. was awarded the Corporate Medal of Honor. The awards are given to individuals who have made outstanding contributions in the community and through their efforts have enhanced the quality of life for those in need.
With nearly 300 guests, the event raised nearly $300,000 to support United Hebrew's senior housing residences, programs and services for frail and chronically ill older adults on its 7.4 acre campus. Guests danced to the music of Soul Solution and were entertained by The Unexpected Boys, a musical group.
"We are so grateful to our sponsors and donors for their continued support," said Michael Rozen, United Hebrew Chair of the Board. "It has contributed to making our Gala a great success."
Michael Rozen welcomed the enthusiastic guests and introduced the special speaker, Regis Philbin. Mr. Philbin's uncle, William Cuttle, is a resident of the United Hebrew Nursing and Rehabilitation Center.
"Everything I witnessed at United Hebrew in New Rochelle convinced me that Uncle Willie is in the right place," said guest speaker, Regis Philbin.
Rita Mabli, United Hebrew President and CEO, gave an inspiring speech that reflected the spirit of the organization. "The Art of what we do is in the Heart," said Ms. Mabli. "There is strength among (our staff)and a single-minded determination to make the lives of those who live at United Hebrew, not just good or good enough but great."
United Hebrew opened a new nursing home pavilion in 2009. The pavilion has 176-private rooms and a dedicated short-term rehabilitation suite staffed by nationally-renowned Burke Rehabilitation professionals. Many of the rooms have views of the Long Island Sound. The home mimics individual neighborhoods, creating a strong sense of community. Amenities include wireless internet access in each room; a resident activity center fully equipped with a library, arts & crafts room; a 2,300-square-foot multi-purpose room and a café and a beautifully-landscaped courtyard.
United Hebrew is located at 391 Pelham Road, New Rochelle, New York 10805. For further information, please contact Linda Forman at 914.632.2804 x1224, e-mail lforman@uhgc.org, or visit http://www.uhgc.org.
Photo caption – L to R: Scarsdale resident and United Hebrew Senior Chair of the Board of Directors, Malcolm Lazarus; New Rochelle resident and President /CEO of United Hebrew, Rita Mabli; Regis Philbin; Scarsdale resident and Chair of the Board of United Hebrew, Michael Rozen,seated, William Cuttle, uncle of Regis Philbin at United Hebrew of New Rochelle's 91st Annual Gala.
About United Hebrew: United Hebrew is a vibrant not-for-profit, non-sectarian, multi-service senior living campus serving the Westchester metropolitan area since 1919. United Hebrew offers a rich array of skilled and community-based programs and services that encourages and supports a life of dignity and spirituality and promotes the highest possible quality of life. United Hebrew serves over 700 clients daily in its campus facilities -- Willow Towers a 126-unit Westchester, NY assisted living residence; a 296-bed nursing and rehabilitation center staffed with Burke Rehabilitation professionals; the 135-unit Soundview Apartments for seniors; a Long Term Home Health Care Program; and the AZOR Home Health Agency. United Hebrew recently opened its new nursing home, which combines world class care with state-of-the-art features.
###