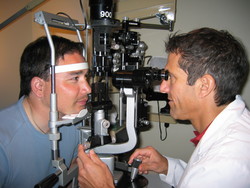 Who's Who in Executives & Professionals
Los Angeles, CA (PRWEB) July 16, 2008
Trusted LASIK Surgeons is pleased to announce that LASIK and refractive expert Jonathan Davidorf, M.D. has been selected for inclusion in the LASIK Eye Surgeons Directory, an informational resource for consumers looking for the best vision correction treatment in the United States. Dr. Davidorf's practice serves the Greater Los Angeles area as well as Ventura County. Various communities served include Encino, Tarzana, Sherman Oaks, Calabasas, Westlake Village, Thousand Oaks, Agoura Hills, and Woodland Hills.
Dr. Davidorf was the first refractive surgeon in California to perform LASIK for farsightedness. His superior accomplishments and experience set him among the top 1% of LASIK and refractive surgeons in the United States. As a true visionary, he meets all of the qualifications set by Trusted LASIK Surgeons to ensure that only those eye surgeons included in its directory are among the very best.
The most significant professional qualifications that distinguish Dr. Davidorf from nearly all other LASIK Surgeons are his experience as a principal investigator for FDA studies for vision correction lasers and lens implants, his academic appointment as a Clinical Assistant Professor of Ophthalmology at the Jules Stein Eye Institute at the UCLA School of Medicine, his pioneering work in research, and his training of other surgeons in a variety of refractive surgery techniques. During his professional career, he has performed over 10,000 LASIK and other laser vision correction procedures. These patients have included other eye doctors and many people who have had complications from a surgery first performed by another surgeon. With over 10 years of experience in laser vision correction, lens implants, and other refractive surgery procedures, both in private practice and in clinical research, Dr. Davidorf has established himself as a proven expert who can provide his patients with the best options and treatments available today.
Dr. Davidorf has written 20 textbook chapters and co-authored the first medical textbook on LASIK. He has also published over 100 articles for major peer-reviewed ophthalmology journals and reviews research articles at several ophthalmology journals. With over 125 presentations at major eye meetings throughout the world, Dr. Davidorf has the unqualified respect of his peers.
As with all eye surgeons at Trusted LASIK Surgeons, he is certified by the American Board of Ophthalmology, and is a member of the International Society of Refractive Surgery, the American Society of Cataract and Refractive Surgery, Research to Prevent Blindness, and the American Academy of Ophthalmology, who awarded him an Achievement Award. He has served on the Scientific Advisory Board of medical device companies and, locally, Dr. Davidorf is a member of California Academy of Eye Physicians and Surgeons, the California Medical Association, the Los Angeles Society of Ophthalmology, and the Los Angeles County Medical Association. Dr. Davidorf stays involved with local charities and has traveled on surgical missions to Africa and Central America with charitable organizations such as Surgical Eye Expeditions and Sight to the Blind, and served as a volunteer Island Doctor in Fiji.
At Davidorf Eye Group, Dr. Davidorf provides the entire spectrum of eye care for patients who are nearsighted (myopic), farsighted (hyperopic), astigmatic (blurred vision), presbyopic (have trouble reading), or a combination of any of the above. LASIK, PRK, Refractive Lens Exchange (RLE)/Clear Lens Exchange (CLE), conductive keratoplasty (CK), phakic implants, limbal relaxing incisions, and cataract surgery with multifocal and accommodating lens implant procedures are among the procedures Dr. Davidorf performs to ensure that each patient receives premier patient care. Dr. Davidorf uses the most current equipment available, including the IntraLase system for "All-Laser" or "Bladeless" LASIK, Wavefront Based ("Custom") treatments for LASIK and PRK, and Bausch & Lomb Zyoptix with IntraLase for a safer, more precise LASIK procedure.
Jonathan Davidorf, M.D. currently serves as the Team Ophthalmologist for the Los Angeles Avengers, has served as the Chief Ophthalmologist for the Women's World Cup, and serves in various advisory and consulting capacities for a variety of organizations and ophthalmic device companies. He has been listed in the Millennium Edition of National Register's "Who's Who in Executives & Professionals", an Honored Member of Strathmore's "Who's Who in America", Millennium Edition 2000-2001, Marquis' "Who's Who in America," and was chosen by the Consumers' Research Council of America as one of America's Top Ophthalmologists
"I have known and respected Dr. Davidorf for the past 12 years. Jonathan's fellowship training in Argentina with Dr. Roberto Zaldivar, one of the most respected and internationally known refractive surgeons is of particular significance," continued James J. Salz, M.D., Chief Executive Officer of Trusted LASIK Surgeons. "Dr. Zaldivar helped pioneer many laser techniques and was instrumental in the development of the STAAR Visian phakic lens implant. Several early peer-reviewed publications on LASIK, PRK, Implantable Contact Lenses, and the seminal paper on Bioptics were written by Dr. Davidorf from his work with Dr. Zaldivar in South America. No doubt, this experience combined with Dr. Davidorf's dedication to his profession formed the basis of his outstanding career as a leading researcher, teacher, and refractive surgeon. We feel fortunate to have him join us at Trusted Lasik Surgeons."
"It's an honor to be included among such a distinguished group of ophthalmologists," said Jonathan Davidorf, M.D., primary surgeon and Medical Director of Davidorf Eye Group. "From cataract surgery and lens implants, to PRK and LASIK, many of the technological advances that have so positively and dramatically affected the sight and lives our patients, have been facilitated by hard work and innovation of the surgeons listed in the LASIK Directory at Trusted LASIK Surgeons."
Visit San Fernando Valley and Ventura County LASIK Surgeon Dr. Jonathan Davidorf profile page at Trusted LASIK Surgeons
To learn more about Dr. Davidorf's refractive surgery practice, please visit Davidorf Eye Group website
To contact Dr. Davidorf's office directly, please visit Davidorf Eye Contact Page
For more on why consumers should consider surgeons listed in the Trusted LASIK Surgeons directory for their vision correction needs, please visit:
Why choose a Surgeon from the Trusted LASIK Surgeon's Directory
The screening process and standards used by Trusted LASIK Surgeons are located at How Are LASIK Surgeons Qualified at Trusted LASIK Surgeons?
To find a highly accomplished LASIK and refractive specialist in your local area who has been qualified and listed in the Trusted LASIK Surgeons directory, please visit Trusted LASIK Surgeons Directory of Vision Care, Refractive Surgery, and LASIK Eye Surgery Experts
SOURCE: Trusted LASIK Surgeons
About Trusted LASIK Surgeons, Inc.
Trusted LASIK Surgeons, Inc. (Trusted LASIK Surgeons) is a premier LASIK and refractive surgery directory service whose primary mission is to assist consumers in finding the best and most qualified LASIK and vision correction surgeons in their local area in the United States. To accomplish this, Trusted LASIK Surgeons uses a unique screening process where each prospective LASIK surgeon must meet the minimum required qualifications set by Trusted LASIK Surgeons. These qualifications are based on experience (not just in LASIK but complete refractive care), research (including FDA approval studies for manufacturers and academic appointments at major universities), publications and lectures (to their peers, not to the public via infomercials) and patient care standards (treating other eye professionals and managing complications from patients first operated on by someone else). All refractive surgeons listed at Trusted LASIK Surgeons have qualified, been accepted, and have subscribed to our services. For more information on why we believe consumers interested in LASIK should consider a surgeon listed in the Trusted LASIK Surgeon's directory, please visit our website at http://www.TrustedLASIKSurgeons.com.
Trusted LASIK Surgeons
(800) 483-8028
news @ TrustedLASIKSurgeons.com
About Davidorf Eye Group
Davidorf Eye Group, the refractive eye practice of Dr. Jonathan Davidorf, specializes in LASIK, lens implants (crystalens), ReStor, ReZoom, implantable contacts lends (ICL), laser vision correction, cataract surgery, cosmetic procedures, and more. With so many years of experience, Davidorf Eye Group is able to truly customize each patient's treatment plan and provide personal care. The Davidorf Eye Group is a leading center for clinical research in refractive surgery. As a principal investigator on numerous FDA clinical trials, Dr. Davidorf's research has been instrumental in advancing the field of refractive surgery. Surgeons from around the world have traveled to Davidorf Eye Group to learn first-hand about the latest refractive surgery techniques, long before they have become mainstream. Dr. Davidorf has delivered award-winning Lasik surgery presentations to national and international audiences on the subject of refractive eye surgery and continues to train other ophthalmologists on advanced surgical techniques. For more information, please visit the Davidorf Eye Group website.
Davidorf Eye Group
7320 Woodlake Ave. Suite 190
West Hills, CA 91307
Appointments: (818) 883-0112
Press: Patrick Nolan (310) 717-6459
Email: pnolan22 @ hotmail.com
###