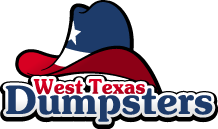 Don't let your project go over budget by not planning proper waste disposal services in advance.
Midland, TX (PRWEB) January 21, 2013
The continuing oil and corresponding economic boom in West Texas has led to tremendous growth in business and population increases. With this growth comes the natural increase in construction debris and trash disposal needs. West Texas Dumpsters has quickly made dumpsters available to businesses and newly developing residential areas reliably and responsibly to enable effective debris disposal.
"We all know that booming local businesses and surges in population are exciting and profitable, but if you overlook the details of things like trash and waste, you're looking at something a bit less than fantastic," says a spokesman of West Texas Dumpsters. "We realize that the developers and contractors don't have time to wait on basic necessities like dumpsters, so we stepped up to meet those needs quickly and affordably, by purchasing additional dumpsters and employing more drivers to serve the area".
West Texas Dumpsters main purpose is to deliver, dump and remove dumpsters in a timely manner. Clients call ahead to reserve a dumpster, and the dumpsters can be delivered in less than twenty-four hours in most cases. Reducing waiting lists for empty dumpsters in order to begin projects and operate man camps is essential in an economy where time equates to money.
From drilling rigs to temporary housing, debris / trash accumulates quickly, and a full dumpster waiting for removal or swap contributes to non sanitary conditions for workers and residents alike.
Being able to call for a new dumpster or dump/swap in less than a day keeps operations working smoothly and ensures that projects aren't held up by one of the most basic of necessities – a safe debris disposal solution.
"There are many different sizes of dumpsters available for project sites, all of which we can have to client location quickly and with no hidden fees or costs. From small household projects to tons of waste from large industrial sites, we provide our customers with the bins they need – no matter how many they need – and we do it every day of the week," explained the spokesman.
We also manage special materials disposal, that is materials that require profiles, manifests and special disposal at appropriate landfills.
Local Dumpster Rental created West Texas Dumpsters as a new service in early 2013 and currently serves cities throughout the Panhandle and West Texas including Odessa, Midland and Andrews.
About West Texas Dumpsters
The goal of West Texas Dumpsters is to provide dumpster rentals and debris disposal efficiently, cost effectively and reliably. Dumpster rentals in West Texas are arranged by phone with additional information about the services provided on the company's newly developed website. For additional information about the company, visit the website http://www.westtexasdumpsters.com.