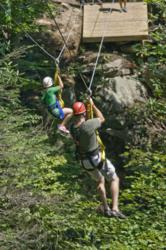 Zip lining in the states is a relatively new concept. But it's seeing impressive growth in popularity. There are now an estimated 120 canopy tours in the United States.
Oak Hill, WV (PRWEB) June 30, 2011
Little more than three years ago, it wasn't possible to zip from tree to tree in Southern West Virginia, save the occasional backyard tire swing. In that short space of time, however, three vacation outfitters have developed zip line tours, with a fourth on the way for a Boy Scout camp in the area.
These Mountain State zip line outfitters are responding to a rising demand from vacationers for new adventures, watching their zip line visitor numbers roughly double each year since 2008.
The explosive growth in popularity of the zip line trips at destinations such as ACE Adventure Resort, in Oak Hill, mirrors a national trend, according to industry sources. West Virginia's tree-top proliferation has even spurred the state's Legislature to pass laws this year regulating the industry.
"Just like we put a few new inflatable toys out on the lake each year, we try to develop a new activity, and in 2007 we just thought, hey, these zip lines are pretty fun — and we've got plenty of trees and plenty of views," said Beth Gill, marketing manager at ACE Adventure Resort.
ACE was the first of the state's outfitters to introduce the zip line activity in 2008, after beginning construction on the course the year before. They expanded their course to 8 lines, many including side-by-side cables, in 2011 because of increased interest and feedback from guests.
Gill said that, like the 15 other outdoor adventures offered at the resort, zip lining gives visitors a chance to relax and reconnect.
"It's just enough thrill," she said, "and the scenery in the New River Gorge is incredible. And it's good fun."
Burning Rock, an ATV park not far from ACE Adventure Resort, added zip lines to its menu in 2010. Differentiating itself from sequential multi-cable zip line offerings at places like ACE, Burning Rock's two zip lines are long and fast, and arranged in a side-by-side format. One couple even held their wedding as they zipped down the cable last year.
"People do like that rush, and we're all about it here," said Lisa Gale, marketing manager at Burning Rock.
Gale said the rising popularity of the zip line activity isn't too big of a surprise. She credits its public perception as relatively safe and the newness of zip lining as a choice for recreation in America.
"It's kind of like how rafting became popular in its heyday," Gale said. "And there's a wider demographic that can do this activity, so there are just that many more people who can share an outdoor activity together."
Zip line and canopy tours are seeing similar booms in popularity across the country, according to James Borishade, executive director of the Association for Challenge Course Technology (ACCT). Borishade said that, although this particular outdoor activity has been popular in places such as Central America for a long time, the American public is perhaps just beginning to discover it. The first zip line in the U.S. was built in 2002, Borishade said.
"Zip lining in the states is a relatively new concept," Borishade said. "But it's seeing impressive growth in popularity. There are now an estimated 120 canopy tours in the United States."
The ACCT is a standard-setting trade organization. The group's safety recommendations were used to guide the development of West Virginia's new legislation that regulates zip line tour providers. Borishade said national growth in the industry is reflected in the ACCT's continually growing membership.
So, is West Virginia now the epicenter of zip lining in the country?
"Not quite," Borishade said. "West Virginia has a long way to go to compete against places like Hawaii."
###