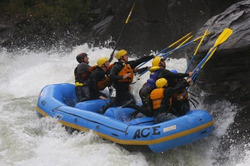 Oak Hill, West Virginia (Vocus) April 26, 2010
The number of raft guides running the river for ACE Adventure Resort continues to increase at the same time the company ups the professionalism of its raft guide safety training to meet or exceed standards seen among whitewater rafting outfitters in the western United States.
Expanded guide training begins in mid-April at ACE, where training already takes longer than at many rafting companies. New ACE guides must attend 20 days of training that include runs down the river and classroom sessions in evenings to meet requirements to take guests on the river.
Leah Hillbrand, ACE quality control safety officer, oversees training for new and experienced raft guides, along with classes and training on customer service and policies.
"Our first priority is that guests have a great experience at ACE rafting on the New River and Gauley River, and we do everything we can to ensure everyone walks away with happy memories," Hillbrand said.
Training entails filling the required number of Division of Natural Resources runs down the river and classroom sessions that focus on history, state flora and fauna, Safety Afloat (a Boy Scouts program), swiftwater rescue and wilderness first aid certification.
The resort puts seven trainers on the river with guide candidates and they make two runs a day during training to watch how new guides run their trips and then critique their performance afterward.
In early sessions, Hillbrand said, trainers guide rafts and demonstrate the fundamentals of rafting, from the most basic elements such as proper paddle strokes up to running rapids. Trainers eventually hand over the paddle to new guides and provide advice on how to improve their skills as they make their way down the river.
Hillbrand said the owners like to make sure guides can be creative and make trips fun at the same time they're safe.
This summer 64 new raft guides, separated into two classes, will prepare to work at ACE.
ACE employment has steadily increased each year as the resort has grown, going from 190 total employees just two years ago to approximately 226 this year.
At peak season, 150 part-time, full-time and weekend raft guides can be found on the river.
The outdoor outfitter has plans for instructors to become American Canoe Association certified, bringing them in line with the standards seen among many western rafting companies and making training even more formalized.
ACE Adventure Resort is a 1,500 acre commercial outdoor wilderness park located in the New River Gorge, in Fayette County, W.Va., that had 37,924 whitewater rafting visitors in 2009. ACE is the largest adventure resort in North America and was listed among the Travel Channel's Top 8 Most Extreme Resorts for 2009.
# # #