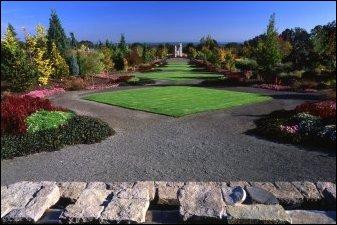 Dirk once said that he built inns to fund his gardening habit, and I don't think he was joking
Silverton, Oregon (PRWEB) July 12, 2007 –-
Moonstone Hotel Properties is proud to announce it is building the crown jewel of its inns along the west coast. The Oregon Garden Resort is adjacent to The Oregon Garden, an 80-acre sanctuary of botanical gardens located in historic Silverton, Oregon. The impetus behind the project is Moonstone Hotel Properties' owner Dirk Winter.
To say that Dirk Winter is passionate about botanical gardens would be an understatement. Twenty years ago, the avid gardener built the first of what has become 10 garden-themed inns in California and Oregon under the banner of Moonstone Hotel Properties.
Winter also established his own nursery and hired a staff or horticultural professionals to oversee his ever-growing gardens. He established ongoing gardening demonstrations and workshops at two of his properties. He even founded two annual garden festivals to help inspire and educate guests about gardening.
But he didn't stop there. Last year, Moonstone Hotel Properties assumed management of The Oregon Garden, which features 20 themed gardens. Now, Winter is building a dream come true: The Oregon Garden Resort, which is adjacent to The Oregon Garden in historic Silverton, Oregon.
"Dirk once said that he built inns to fund his gardening habit, and I don't think he was joking," said Lynda Gill, director of operations for Moonstone Hotel Properties. ""You certainly don't have to be a gardening enthusiast to enjoy our guest experience. But if you have an appreciation for gardening, or are an avid gardener yourself, we encourage you to dig into everything we have to offer."
Following are some of the highlights from Moonstone's gardening experience:

The Cambria Pines Lodge on California's Central Coast features five acres of colorful themed botanical gardens.
Moonstone's Cambria Nursery & Florist can be reached on foot from Cambria Pines Lodge via a California native plant pathway. The nursery offers gardening demonstrations and workshops throughout the year.
The Village Green Resort in Cottage Grove, Oregon also features several acres of themed gardens and offers gardening demonstrations and workshops throughout the year.
Moonstone hosts its annual Gathering of Gardeners event at two of its West Coast inns, Cambria Pines Lodge and Village Green Resort. The events feature gardening speakers, gardening vendors, arts and crafts, and more.
The Apple Tree Inn near Yosemite features a variety of colorful gardens during the spring and summer, including a Pacific Rim Garden and Jack in The Beanstalk Garden.
The Carmel River Inn on California's Monterey Bay is currently undergoing a major renovation, which will include acres of themed gardens.
While some of Moonstone's properties offer little space for expansive gardens (such as Creekside Inn, their downtown Cambria property; beachfront inns in Cambria: Pelican Cove Inn and Sea Otter Inn; and their Monterey Peninsula properties, The Monterey Hotel, Carmel River Inn and Deer Haven Inn) all feature colorful landscaping that reflects the gardening theme.
Moonstone continues to grow its focus on gardening with new initiatives launched this year, including the development of lobby libraries filled with gardening books, and adding more garden-themed décor and artwork into the rooms.
The 103-room Oregon Garden Resort, which will be located on a hilltop near The Oregon Garden's Rediscovery Forest, is scheduled for completion in the summer of 2008. The Craftsman-style inn will feature garden-themed décor, gardening workshops and expert guest speakers, and a garden library. It will also cater to garden weddings, with a large bridal suite, honeymoon suite and wedding gazebo. All guests will have unlimited access to The Oregon Garden during their stay. For more information, please visit http://www.moonstonehotels.com.
Contact:
Malei Weir
Mooncatcher Communications
(805) 239-0020
mw @ mooncatcher.com
moon Ï stone n. 1. A gem valued for its pearly translucence. 2. A rugged, picturesque beach adjacent to the quaint coastal village of Cambria, California. 3. A Cambria-based collection of boutique hotel properties set amid extraordinary destinations. Moonstone Hotel Properties was established in 1983 by Dirk Winter, when he built the Sea Otter Inn along Moonstone Beach. Today, Moonstone Hotel Properties encompasses 10 distinctive inns and hotels in Cambria, Monterey, Carmel, Yosemite and Oregon. Each of these spectacular properties reflects a commitment to quality and attention to detail, with the goal of creating a warm, comforting and memorable experience for the guest. Additionally, the Moonstone-owned Cambria Nursery and Florist captures Mr. Winter's passion for fine gardening, which is also evident in the colorful landscaping at each of the Moonstone Hotel Properties.
###