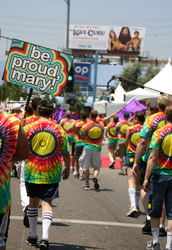 West Hollywood, Calif. (Vocus) May 19, 2010
West Hollywood will proudly host the 40th Annual LA PRIDE Celebration from June 11-13, 2010. Style, energy and a spirit of celebration collide each year during LA PRIDE, highlighting West Hollywood's progressive nature, its diverse atmosphere, and its glamorous setting at the foot of the Hollywood Hills in the center of greater Los Angeles.
Produced by Christopher Street West, LA PRIDE is a weekend-long celebration that provides the perfect opportunity to plan the ultimate West Hollywood retreat. During the two-day festival on Saturday and Sunday, headliners will include Kelis, En Vogue, the Motels, and Kelly Rowland. The country's hottest DJs spin the day and night away in numerous dance pavilions while local vendors and non-profits provide a diverse mix of fun, food, drink and education. And, of course, the can't-miss event of the weekend is the Pride Parade on Sunday.
HOTEL SPECIALS
At just 1.9 square miles in size, West Hollywood is centrally located and completely walkable. WeHo is the style and design epicenter of LA, providing its guests an array of chic restaurants, gay-owned businesses, designer shops and vibrant nightlife. West Hollywood's hip and exceptionally LGBT-friendly hotels are offering great packages designed to entice Pride-goers to stay and play throughout the entire weekend.

LA PRIDE CELEBRATION
The LA PRIDE 2010 celebration runs June 11-13, 2010 in West Hollywood and consists of three main activities: the Pride Festival, the Pride Parade and the Dyke March. For full details on all of the great events, entertainers, exhibitors and gatherings, please visit http://www.lapride.org.
The Festival opens on Saturday, June 12, from 12 noon until 11 p.m. and reopens at 11 a.m. on Sunday, June 13, remaining open until 10 p.m. The Festival takes place on San Vicente Blvd. between Santa Monica Blvd. and Melrose Ave. Festival admission, which includes access to all entertainment venues, is $20 per day. Advance tickets will go on sale at lapride.org on Monday, May 24th for a discounted advance price of $15.00 per day. And, for the first time, there will be a weekend pass option. The Special Anniversary Weekend Pass will be $29.00 for both days (online only, normally $40)!
The 40th annual LA PRIDE Parade is expected to gather more than 400,000 people again this year, beginning at 11 a.m. on Sunday, June 13, starting at 11 a.m. The parade runs west along Santa Monica Blvd. from Crescent Heights Blvd. to Robertson Blvd.
The Dyke March gathers at 7:00 p.m. on Friday, June 11, at the corner of San Vicente and Santa Monica Blvds. A rally leads into the Dyke March, planned for approximately 8 p.m., which is followed by the Lesbian Visibility After Party being held on the Festival grounds.
ABOUT THE WEST HOLLYWOOD MARKETING & VISITORS BUREAU
Located at the foot of the Hollywood Hills in the heart of Los Angeles and just 1.9 square miles in size, the city of West Hollywood rivals the world's most exciting travel destinations. Visitors can spend their days shopping in the colorful design district, lounging at a rooftop hotel pool, or visiting one of the area's cultural attractions. And when the sun goes down, West Hollywood really heats up with world-class dining experiences and the legendary nightspots of The Sunset Strip and Santa Monica Blvd. The city's small size and central location make it a friendly, walkable haven for travelers.
The West Hollywood Marketing & Visitors Bureau is a 501(c) non-profit organization dedicated to marketing the City of West Hollywood as a "living forward" visitor destination to business and leisure travelers by promoting awareness of the city's unique location, image, businesses and industries and by providing support for the city's economic development efforts. For more information on West Hollywood's cutting edge businesses or to plan the ultimate getaway, please visit http://www.visitwesthollywood.com. For the latest offers and tips on living like a West Hollywood insider, visit http://www.WHinsiders.com.
# # #