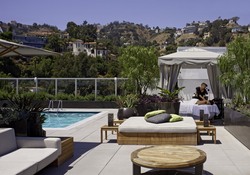 West Hollywood, Calif. (Vocus) June 4, 2010
From a vantage point high above The Sunset Strip on the rooftop pool deck of the Andaz West Hollywood hotel -- the highest hotel pool in all of Los Angeles -- visitors experience the bliss of being a million miles from it all… yet right in the pulsing heart of the city. West Hollywood boasts six rooftop pools, three more hillside pools overlooking the city, and four pools that are so private that Madonna could hide from the paparazzi there.
This is how summer is best spent in West Hollywood: shopping in The Avenues -- West Hollywood's premier art, fashion and design district, lounging poolside, or visiting one of the area's many cultural attractions. And when the sun goes down, West Hollywood really heats up with world-class dining experiences and the legendary nightspots of The Sunset Strip and Santa Monica Blvd. Located at the foot of the Hollywood Hills in the heart of Los Angeles and just 1.9 square miles in size, the city of West Hollywood rivals the world's most exciting travel destinations.
Just a short drive from Orange County, San Diego or Santa Barbara, West Hollywood is the perfect weekend getaway for Southern California residents looking for the quintessential "L.A." experience -- hip, laidback and full of glamour. Visitors can research the city's restaurants, clubs, and boutiques and even book a hotel room at http://www.visitwesthollywood.com.
Also happening this summer, Sunset Strip restaurants and businesses are celebrating summer by redefining happy hour. Just launched June 2nd, The Sunset Strip hosts a new Sunset Strip Mass Happy Hour every Wednesday night at over 20 venues, providing budget-friendly specialty cocktails and gourmet food options.
Several hotels are providing even more reasons to book a stylish summer getaway in West Hollywood:
SUNSET MARQUIS | Sunset Marquis Hotel & Villas is a stunning five-acre resort-style hotel with two swimming pools, a luxurious spa, restaurant and bar on property. The hotel is legendary for its rock-and-roll heritage and its collection of autographed, museum-quality photography of rockers and musicians who also frequent the hotel. The Sunset Marquis Hollywood Bowl Package includes two garden box tickets to an amazing concert at the Hollywood Bowl and a night in a luxurious villa. Artists performing this summer include Tom Petty, Kings of Leon, Carrie Underwood, Jack Johnson, John Mayer and Sting. The hotel is also offering Advance Purchase Rates. Guests who book 21 days in advance receive 20% off a luxury suite or villa. All bookings include two welcome Marquis drinks at the hotel's restaurant or BAR 1200, 2 Sunset Strip All Access passes and two passes to Equinox Fitness. Book via the website at http://www.sunsetmarquis.com.
LE PARC SUITE HOTEL | Le Parc is offering a 21-day Advance Purchase Package, which offers guests a 20% discount off the Best Available Rate. (Note that under Advance Purchase Rate reservations, full payment is required at the time of booking and cancellations or modifications cannot be made.) Full details can be found at http://www.leparcsuites.com. The hotel has a rooftop pool deck with cabanas and chaise lounges.
MONDRIAN | The sexy and stylish Mondrian is offering summer rates from $375 including a $100 hotel credit and complimentary parking. The hotel credit can be used for purchases inside the hotel, including Asia de Cuba restaurant (try the phenomenal outdoor patio), ADCB lounge or the AGUA spa. Mondrian's Sky Bar is a favorite summertime hangout, and sits next to the hotel's swimming pool overlooking the sparking lights of LA below. More information on booking is available at http://www.mondrianhotel.com.
LE MONTROSE | Le Montrose, an all-suite hotel nestled into the hillside between Sunset Boulevard and Santa Monica Boulevard is running Resident Rates, which are available to residents of California, Arizona and Nevada. Valid ID is required and the rates are bookable at http://www.lemontrose.com. Summer rates start at $189.
THE LONDON WEST HOLLYWOOD | The London's rooftop pool and sun deck is located on the property's tenth floor, the perfect fusion of California chic and timeless British tradition, featuring abundant English garden-style landscaping, private cabanas and teak decking set against sweeping panoramic views of the Los Angeles skylines. This summer, The London will offer a Summer in the City package including spacious suite accommodations, valet parking each night for one vehicle, evening cocktail poolside at sunset and daily full English breakfast from the Boxwood Café by Gordon Ramsay. To book, go to http://www.thelondonwesthollywood.com.
ABOUT THE WEST HOLLYWOOD MARKETING & VISITORS BUREAU
The West Hollywood Marketing & Visitors Bureau is a 501(c) non-profit organization dedicated to marketing the City of West Hollywood as a "living forward" visitor destination to business and leisure travelers by promoting awareness of the city's unique location, image, businesses and industries and by providing support for the city's economic development efforts. For more information on West Hollywood's cutting edge businesses or to plan the ultimate getaway, please visit http://www.visitwesthollywood.com. The Bureau has also designed a site with information specifically geared toward gay travelers at http://www.gogaywesthollywood.com. For the latest offers and tips on living like a West Hollywood insider, including exclusive deals and shopping incentives, visit http://www.WHinsiders.com.
###