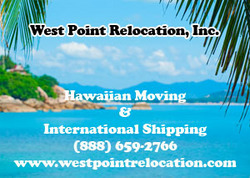 Kapolei, HI (PRWEB) December 14, 2007
West Point Relocation, Inc. has begun offering regular shipments of household goods, freight, vehicles, and more, to and from many international destinations throughout Europe and Asia.
West Point Relocation believes that the ability to receive immediate international shipping quotations is a helpful and useful service to both individuals and corporate shippers wanting to receive a quick, no-obligation quote. To meet this need, West Point Relocation has created a website where customers can receive an immediate international shipping quote to many worldwide destinations, without waiting to speak to a sales representative on the phone. By simply providing a few details such as origin, destination, commodity, and size of the move, customers can quickly query the West Point Relocation rates database and receive an instant, free international shipping quote. West Point Relocation feels that this service fills the need for offering fast international shipping quotes for today's fast-based and technology-centric world. After receiving their quote from the international shipping website , customers can decide whether to reserve their move online, or call a sales representative. Once an international move is reserved, the dispatch and logistics team at West Point Relocation's international division takes over to provide seamless international transportation services to its customers from origin to destination.
Customers who are not shipping enough items to fill an entire container will benefit from West Point Relocation, Inc's "partial container" service. This service offers customers who are moving or shipping internationally an additional option, whereby the customer will pay for only the space inside the container that they actually use without having to pay for the entire container. This can amount to savings in the thousands of dollars per shipment.
West Point Relocation, Inc. offers many types of moving and shipping options to many international destinations, from the economical "port-to-port" to the full-service "door to door."
West Point Relocation ships to the United Kingdom, including London and the surrounding areas, France, Germany, Holland, Belgium, Austria, the Netherlands, Taiwan, Thailand, and many more worldwide destinations. The international rates website is constantly adding new countries to its instant rates system. Customers are urged to contact West Point Relocation by telephone or email if they need a rate to a destination not currently listed on the website.
West Point Relocation, Inc. is a member of the American Moving and Storage Association (AMSA), the Household Goods Forwarders Association (HHGFAA), the Employee Relocation Council (ERC), and the National Customs Brokers and Forwarders Association of America (NCBFAA).
West Point Relocation, Inc. is licensed as a freight forwarder, an NVOCC, and a broker.
Other useful websites:
Hawaii Shipping Estimates
Guam Shipping Estimates
For additional information, please visit http://www.westpointrelocation.com or call the customer service and sales center toll-free at (888) 659-2766.
About West Point Relocation, Inc:
West Point Relocation, Inc. is a Hawaiian moving and international shipping company focused on providing cost-effective and professional shipping services for both individual shippers and companies needing to move goods between the mainland and Hawaii, Guam, and internationally.
Contact:
Customer Support and Sales
West Point Relocation, Inc.
(888) 659-2766
# # #