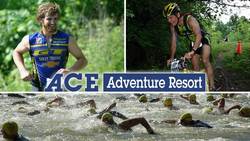 This race has become a premier event in the Mid-Atlantic due to the diversity of activities and facilities available at ACE. We can put on just about any type of outdoor-related competition - from climbing to whitewater - right here
Fayetteville, WV (Vocus) April 4, 2008
West Virginia's largest adventure resort has announced its 2008 calendar of races. ACE Adventure Resort Special Events Coordinator Jeff Walls said this year's events will range from family-friendly to hardcore. Nationally sanctioned races featuring the Mid-Atlantic's best outdoor athletes and the only down-river swimming course in the country.
The 8th annual XTERRA ACE Big Canyon Off-Road Triathlon will kick off the competitive season Sunday, June 3. Part of the international XTERRA American Tour series, this points race features the only down-river swim section in the country, along with new improvements for a more-challenging mountain bike section, based on competitor feedback.
"This race has become a premier event in the Mid-Atlantic due to the diversity of activities and facilities available at ACE. We can put on just about any type of outdoor-related competition - from climbing to whitewater - right here," said Walls. "The winner of this event will be the person who has prepared extremely well in terms of conditioning, and who has the endurance to tackle each section of the course."
The New River Bike Fest, sanctioned by the West Virginia Mountain Bike Association (WVMBA), will be held Sunday, August 24th. A family-centered event, there are classes and categories for everyone. Economical lodging and meal options make ACE a great place to visit, either to compete, or just to enjoy a short mini-vacation before school and fall activities take over.
"While we certainly welcome our affiliation with the XTERRA American Tour, families and groups are really our bread and butter here at ACE," said Walls. "The New River Bike Fest is a great opportunity for everybody to just come out and ride. There is some tight competition, but lots of competitors are just there to have a good time."
Spectacular fall foliage and a challenging, upgraded course will highlight the 7th Annual New River Gorge-ous Trail Run and Walk, slated for Saturday, October 25. The event will be the season's final for the Mountain State Trail Run Series. Three course lengths are available for participants.
"Competitors in this event are going to get to see some of the trail improvements we've put in, which I think they'll like - and it's always just so beautiful here that time of year," said Walls.
Walls further elaborated, "I think ultimately the aspect that makes competing in any event at the Ace Adventure Resort so attractive is the opportunity to combine a superb race experience with world-class whitewater rafting or any number of other great activities offered at ACE. I mean that's a great weekend vacation!"
For additional information about ACE Adventure Resort, or to receive updates on the 2008 event schedule, visit http://www.aceraft.com, or contact Jeff Walls at 800-787-3982 x152
Event Schedule:
June 3
8th annual XTERRA ACE Big Canyon Off-Road Triathlon - top outdoor triathletes tackle one of the country's most diverse courses.
August 24
7TH annual New River Bike Fest - family-friendly event features multiple classes, plenty of camping and fun for everyone.
October 25
9th annual New River Gorge-ous Trail Run and Walk - fall foliage lights up the trees blanketing ACE Adventure Resort's 1,400-acre, outdoor activity complex in south-central West Virginia.
###