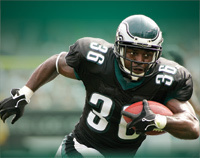 Supreme Protein® bars were a terrific discovery for me
Manasquan, NJ (Vocus) September 10, 2008
That vast sigh of relief you heard late on Sunday afternoon came from countless thousands of Philadelphia Eagles fans and Fantasy Football owners of the NFL's most dangerous rushing and pass-catching weapon, Brian Westbrook. The Philadelphia Eagles once again are a force to be reckoned with in the NFL, and they're led by their star running back, Brian Westbrook, who scored two touchdowns (one running and one receiving, on a shovel pass from QB Donovan Mcnabb) as the Eagles utterly dismantled the St Louis Rams 38-3. Next up for the Eagles and Westbrook is the highly anticipated Monday Night Football clash against their archrivals, Tony Romo and the Dallas Cowboys.
The accolades keep piling up for Westbrook, who led the NFL in yards from scrimmage with 2,104 in 2008, and was named to his second Pro Bowl and first All-Pro team. Now his high-profile on-field heroics have earned him another choice reward: a promotional deal with the makers of his favorite protein bar, Supreme Protein.
All of this, of course, comes as terrific news to the Philadelphia Eagles' legions of rabid fans. Last year, Westbrook truly came into his own as an every-down, workhorse running back and one of the NFL's elite offensive threats. Long celebrated for his superb conditioning and stamina, Westbrook has taken his physique to a new level this year, adding lean muscle mass and decreasing body fat. These improvements were highly evident on Sunday, as Westbrook ran over, around and through the clearly overmatched St. Louis Rams, on the way to establishing the Philadelphia Eagles as one of a handful of NFL teams that has legitimate aspirations to representing the National Football Conference in the 2009 Super Bowl in Tampa Bay later this season.
In speaking of his physical dominance and overall physique improvements this year, Westbrook credits changes in overall diet, including the newest addition to his regimen, Supreme Protein bars. "Supreme Protein® bars were a terrific discovery for me," the elusive ball carrier says. "I'll usually eat two a day. The flavor is sensational and each one has all the ingredients to deliver the high nutritional profile I need to perform at a high level."
That high level of performance has been striking fear into the hearts of opponents since Westbrook came to the Eagles in the 2002 NFL Draft. Last year, in addition to leading the entire league in total yards, Westbrook also set a new career high in rushing yards with 1,333 and set a new Eagles franchise record with 90 receptions. He is, clearly, the NFL's most dangerous all-purpose offensive player. Although he had experienced some nagging injuries in earlier years (including a foot injury that shut him down completely near the end of the 2005 season), last year saw him earn a flawless bill of health on the way to playing every game of the season.
"The wear and tear you absorb over a football season is incredible," Westbrook says. "It's important for me to stay healthy, while also maintaining lean body mass and weight so that I can maximize my strength and stamina. Supreme Protein bars allow me to get the protein and nutrients that I need so that I recover from games and workouts faster. Since I've added Supreme Protein bars to my routine, I've been leaner, faster and stronger than ever."
Now, as the climactic battle against the Dallas Cowboys looms on Monday Night Football, Westbrook's sights are set on goals that go beyond the personal benchmarks he set last year. With the help of Supreme Protein bars and his remarkable peak physical conditioning, he looks to return his Philadelphia Eagles to the top of the heap in the highly competitive NFC East and onward to the Super Bowl.
###