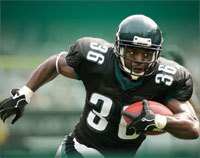 I feel really strong this year
Manasquan, NJ (Vocus) December 2, 2008
Is there another player in the entire NFL who can carry a team on his back the way Brian Westbrook does?
When Westbrook is out (as he was recently after absorbing a particularly brutal hit in a game against the Washington Redskins that broke two ribs) the Eagles are mediocre. When he's on the field, the Eagles look like the class of the NFL. In fact, the Super Bowl champion 11-1 New York Giants have been fore-warned: Brian Westbrook will be bringing his "A" game to their Week 14 clash.
On Thanksgiving Day, the whispers around the Eagle clubhouse started early. Hey, Westbrook says he feels good. He says he's ready to go. Almost immediately, spirits soared in the locker room, a nation full of Fantasy Football freaks cheered, and the Eagles went about dismantling the NFC West-leading Arizona Cardinals, 48-20.
Westbrook's tally on the day? 110 yards rushing and 2 TDs. 3 receptions for two more touchdowns. That's a level of on-field heroics that just isn't conceivable for mere NFL mortals. There are plenty of top-flight NFL RBs that won't score 4 TDs all year.
What can explain Westbrook's ultra-high level of play? Perhaps it's all those Supreme Protein bars he eats. Everyone knows Brian Westbrook's conditioning is unsurpassed. But this year, he looks tighter, more ripped, and more muscular than ever before. He's truly taken his physique to a new level. And that comes down to his workout regimen and his extremely high nutritional standards. For Westbrook, nothing less than Supreme Protein bars will do.
"Supreme Protein bars were a terrific discovery for me," the game-breaking ball carrier says. "I'll usually eat two a day. The flavor is sensational but more importantly they provide superior protein that helps me maintain my strength and lean muscle. On the road, eating clean is usually a challenge but these bars make it a no brainer."
The results have given Philadelphia Eagles fans new hope in a season that once looked lost.
"I feel really strong this year," Westbrook says. "I wanted to come into the season with more muscle mass and less body fat and I think I accomplished that. So much of it comes down to superior nutrition. I always train hard but this year I've been extremely strict with my diet, eating only foods that are nutritionally superior for my goals. Every trainer in the league will tell you that quality protein is the foundation of that effort. You look at the nutritional label on a Supreme Protein bar and you can see that the protein content is second to none. I've never felt better physically than I have this year, and my Supreme Protein filled diet has definitely contributed to this."
With Westbrook back on the field and dominating opponents once more, the Eagles are revitalized. Their mission? Four games, four wins. Their opponents? The New York Giants, the Cleveland Browns, Washington Redskins, and a season-closing clash against the Dallas Cowboys.
It's a superhuman task for a team with an elite running back who has proven himself capable of superhuman performances in recent years. An elite running back with a few extra Supreme Protein bars in his workout bag.
# # #