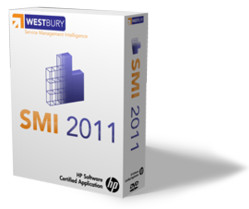 We see Westbury SMI 2011 as the key off the shelf solution for HP Service Manager customers
Amsterdam, Netherlands (PRWEB) May 05, 2011
Westbury today announced the release of SMI 2011, the latest version of its reporting solution for HP Service Manager. The new version has been completely re-engineered from scratch, and includes a host of added functionality to allow users to create custom reports from HP Service Manager data.
SMI 2011 builds on the success of Westbury's previous solution, SMI Suite, and includes support for all of the business processes handled by HP Service Manager: incident management, interaction management, change management, service level management, problem management, request management, known error management and configuration management. Shipped with the product will be 55 fully editable and customizable startup reports, covering all eight business processes, which allow users to begin reporting on their environment immediately.
Administration of SMI 2011 is handled through a new, user-friendly, intuitive interface. The back-end of the solution, the SMI Foundation, has been completely re-engineered, with many tasks automated, making it easy for non-technical users to manage. This new architecture means that support for other data sources within the HP BTO suite, such as HP Asset Manager, HP uCMDB and HP PPM, is part of the near-future roadmap for SMI 2011.
Westbury CEO Floris Verschoor says: "SMI 2011 is much more than just the next version of our solution. We went back to square one and built an open platform for ITSM reporting. SMI 2011 means a better reporting experience for HP Service Manager, but much more than that, it means that going forward we will offer users a way to experience better reporting for everything they do in IT service management. The watchword during development was always 'user experience.' SMI 2011 makes is easy to access even the best hidden data and make sense of it."
Jacques Conand, product management director - service manager at HP adds, "We see Westbury SMI 2011 as the key off the shelf solution for HP Service Manager customers that provides ad-hoc, operational reporting that is powerful, user friendly and flexible. There is a wealth of ITSM information in HP Service Manager and Westbury SMI 2011 is its ideal complement to get at that information."
SMI 2011 is available immediately.
Established in 1998, Westbury is the worldwide leader in reporting solutions for HP ITSM platforms. Westbury pioneered the principle of Service Management Intelligence, which puts the power of self-service reporting in the hands of those who need it most: process owners, IT managers and decision-makers. Service Management Intelligence allows IT departments to make informed decisions, and prove the value of IT to the business. Westbury is an HP Software Platinum Business Partner, and has offices in the Netherlands and Cambridge, Mass.
###