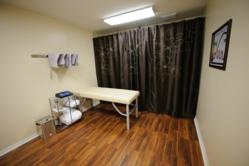 The Choice For Real Pain Relief Is At Elan Wellness Center's Westchase Personal Injury Clinic
Tampa, FL (PRWEB) June 12, 2013
Elan Wellness Center, headed up by Dr. Christine Rogers, a chiropractic physician, is the place to find treatment for all types of discomforts and pain. Chiropractic deals with pain on a holistic level employing non-pharmaceutical techniques and protocols to relieve pain. The practice of chiropractic care also serves as a preventative measure against ailments.
This Westchase personal injury clinic is one which delivers personal care by a team of professionals who are dedicated to making their patients feel better and get more out of life. Not only can chiropractic care relieve chronic or temporary back pain, arising from a strain or fall, but a wide variety of other conditions. Common ailments such as arthritis, knee and hip pain, neck pain, shoulder and arm pain, spinal stenosis, sports related injuries, degenerative disc disorders, even chronic headache and pain caused by failed back surgery can all be treated effectively with the right chiropractic care.
"We'd like to be thought of as more than just a Westchase personal injury clinic. We serve the Tampa Bay area at large. Moreover, we provide a whole host of treatment options that deal with many types of disorders, diseases, and inner body systems. People ought to know that chiropractic care can do more than deal with an aching back, it can be used to treat entire systems, like the musculoskeletal system, the neurological systems, and other systems. It can be used to deal with several injuries, in a way that doesn't involve pharmacological treatments, and that, often times, brings significant benefits instead of side effects," a company spokesperson with the Westchase personal injury clinic explained.
If you've suffered some type of recent fall, collision, or other like experience and want to start feeling better right away, this Westchase personal injury clinic is the place to seek treatment. The clinic makes scheduling an appointment simple and hassle free with its online scheduling feature. New patients are always welcome, and most insurance carriers are accepted.
"Being the leading Westchase personal injury clinic certainly has its benefits for our patients. Because of it, we have the latest in equipment and always use the most advanced, effective techniques so our patients see and feel results," the spokesperson added.
For more information about Elan Wellness Center and its ability to treat many injuries, please visit them at 11329 Countryway Blvd, Tampa, FL 33626, or phone (813) 855 - 0001 to make an appointment with Dr. Christine Rogers. Information about the Westchase personal injury clinic is also available online at http://www.elanwellnesscenter.com.