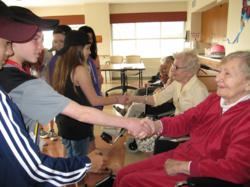 It is important for young people to see that there are so many worthwhile fields to pursue that interact with older adults
New Rochelle, NY (PRWEB) July 07, 2011
United Hebrew of New Rochelle(UH) hosted students from Scarsdale Middle School for a career-awareness day at United Hebrew's nursing home and rehabilitation pavilion, which is part of UH's Harry and Jeanette Weinberg campus of residences and services for older adults. United Hebrew of New Rochelle's campus includes a new nursing home and rehabilitation center, Willow Towers assisted living, independent living and home health care services.
Over one hundred students and their teacher chaperones toured the pavilion, as part of Scarsdale Middle School's SHARE curriculum, an acronym for Scarsdalians Honoring and Respecting Each Other. The curriculum, now in its fourth year, is taught by the Butler House 6th grade team to help students understand and make personal connections with older adults as our population ages. The visit to United Hebrew is an expansion of a year-long "intergenerational" program. "We felt it was important for our students to be exposed to the real world where people are working with older adults," said Scarsdale social studies teacher Eric Bitterman, who created the SHARE program. "We came to United Hebrew last year and it had great impact on the students. We couldn't wait to come back this year." Bitterman said.
The students were fascinated by the size and scope of United Hebrew, with more than 400 employees working in finance, information technology, marketing, fund-raising, food service, human resources, nursing and rehabilitation, and recreation. On the nursing floor the sixth-graders were invited by the recreation therapist to participate with the music and singing. During the kitchen tour with UH's food service director, they learned that UH serves 1000 meals daily, using a computerized system to reflect each patient's dietary restrictions and preferences.
"It's important for young people to see that there are so many worthwhile fields to pursue that interact with older adults," said Rita Mabli, President/CEO of United Hebrew. Student Ally Wolloch said that it was interesting to learn about people who they wouldn't otherwise meet. For Harrison Novick "It showed me how valuable life is."
United Hebrew of New Rochelle is located at 391 Pelham Road, New Rochelle, New York 10805. For further information, please contact Linda Forman at 914.632.2804 x1224, e-mail lforman(at)uhgc(dot)org, or visit http://www.uhgc.org.
United Hebrew is a vibrant not-for-profit, non-sectarian, multi-service senior living campus serving the Westchester metropolitan area since 1919. United Hebrew offers a rich array of skilled and community-based programs and services that encourages and supports a life of dignity and spirituality and promotes the highest possible quality of life. United Hebrew serves over 600 clients daily in its Harry and Jeanette Weinberg campus facilities -- Willow Towers, The Beverly and Alfred J. Green Pavilion, a 126-unit licensed assisted living residence which has the SNALR Phoenix unit as one of the first in the county to receive the certification from New York State Dept of Health to cater to residents with Alzheimer's& related disorders in a special needs assisted living residence; a 296-bed nursing and rehabilitation center staffed with Burke Rehabilitation professionals; the 135-unit Soundview Apartments for seniors; a Long Term Home Health Care Program; and the AZOR Home Health Agency. United Hebrew recently opened its new home, which combines world class care with state-of-the-art features.
###