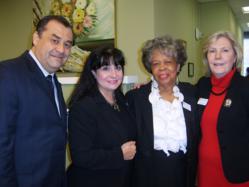 " We are thrilled to have all of our service divisions located on one continuum of care campus" said Rita Mabli, President and CEO of United Hebrew of New Rochelle.
New Rochelle, New York (PRWEB) November 04, 2011
United Hebrew of New Rochelle, a continuum of care campus of a nursing home and rehabilitation center, assisted living and home health care in Westchester County, has moved its service divisions onto its one 7.4 acre campus. The United Hebrew Long Term Home Health Care and the AZOR Licensed Home Health Agency have moved their offices to the campus. Recently an open house was held to celebrate the move to the new offices at 391 Pelham Road in New Rochelle.
"We are thrilled to have all of our service divisions under one continuum of care site." said Rita Mabli, President and CEO of United Hebrew. "This allows our customers easier access and a more efficient coordination of care for those living in our residences and in the community."
United Hebrew Long Term Home Health Care also known as The Lombardi Program, has provided individuals with an alternative to nursing home placement since 1984. The program offers options for those requiring skilled services by enabling them to receive care in their own home under the supervision of their physician and the United Hebrew coordinated health care team. Chronically ill or disabled Westchester County residents who are under a physician's care and can safely remain at home with part-time services are eligible.
AZOR is a licensed home health care agency that provides assistance in-home in Westchester and the New York City boroughs. Home care services include nursing services provided by RNs or LPNs, Home Health Aides & Personal Care Aides, Homemakers & Housekeeping Services, Companions & Sitters, Physical, Occupational & Speech Therapists.
"Home Health Services plays a major role in helping people to age in place at home and stay independent." said Eileen Clayton, RN, Director of Marketing for United Hebrew of New Rochelle. "We are meeting the great demand for additional services as the aging population grows."
For more information about United Hebrew of New Rochelle contact Linda Forman, Vice President of Community Relations at 914.632.2804 x1224 or [email protected]
About United Hebrew of New Rochelle
The Harry and Jeanette Weinberg Campus
United Hebrew is a vibrant not-for-profit, non-sectarian, multi-service senior living campus serving the Westchester metropolitan area since 1919. United Hebrew offers a rich array of skilled and community-based programs and services that encourages and supports a life of dignity and spirituality and promotes the highest possible quality of life. United Hebrew serves over 600 clients daily in its Harry and Jeanette Weinberg campus facilities -- Willow Towers, The Beverly and Alfred J. Green Pavilion, a 126-unit licensed assisted living residence which has the SNALR Phoenix unit as one of the first in the county to receive the certification from New York State Dept of Health to cater to residents with Alzheimer's & related disorders in a special needs assisted living residence; a 296-bed nursing and rehabilitation center staffed with Burke Rehabilitation professionals; the 135-unit Soundview Apartments for seniors; a Long Term Home Health Care Program; and the AZOR Home Health Agency. United Hebrew recently opened its new home, which combines world class care with state-of-the-art features.
###