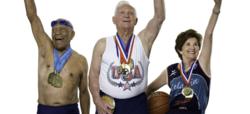 "Active seniors help us understand that there are no limits to what we can achieve at any age." said Rita Mabli, President/CEO of United Hebrew of New Rochelle
New Rochelle, New York (PRWEB) January 18, 2012
United Hebrew of New Rochelle, a leading nursing home, rehabilitation center and assisted living residence, is proud to announce a spectacular event celebrating active seniors called "We Are Champions: Senior Athletes in Motion". As part of this special salute to active seniors, United Hebrew will screen the Westchester premier of the award-winning documentary, "Age of Champions" on their Harry and Jeanette Weinberg Campus on Friday, April 27th at 2:00 pm. "Age of Champions" tells the story of senior Olympians - a 100-year-old tennis champion, 86-year-old pole vaulter, swimming brothers, and a team of basketball grandmothers - and their incredible ability to perform and go for the gold at the National Senior Games in Sacramento, California. The film captures the inspirational stories of these competitors as they tackle the challenges of getting older with uplifting grace, humor and optimism.
"We are very excited to be focusing our event on seniors that have continued to embrace exercise and activity throughout their lives." said Rita Mabli, President/CEO of United Hebrew of New Rochelle, "They help us understand that there are no limits to what we can achieve at any age."
The documentary Age of Champions made its world premiere at the 2011 Silverdocs Film Festival and was heralded by the Washington Post as "infectiously inspiring." Athletes featured in the film have received wide attention from the national media, including NBC Evening News, CNN, The Regis & Kelly Show, ABC News, NPR, and a cover story in Washington Post magazine. Visit ageofchampions.org for more information and to view the trailer.
United Hebrew of New Rochelle is a not-for-profit, non-sectarian, multi-service senior living campus serving the Westchester metropolitan area since 1919. The organization has sponsored many community events which advocate for older adults. The new nursing and rehabilitation pavilion features The Lazarus Gallery, an art space with rotating exhibitions encompassing a variety of media. United Hebrew serves over 700 clients daily in its Harry and Jeanette Weinberg campus facilities -- Willow Towers, The Beverly and Alfred J. Green Pavilion, a 126-unit licensed assisted living residence which has the SNALR Phoenix unit as one of the first in the county to receive the certification from New York State Dept of Health to cater to residents with Alzheimer's & related disorders in a special needs assisted living residence; a 296-bed modern nursing home and rehabilitation center staffed with Burke Rehabilitation professionals; the 135-unit Soundview Apartments for seniors; a Long Term Home Health Care Program; and the AZOR Home Health Agency.
This local event is part of the film's national grassroots campaign for Age of Champions, launched in partnership with the AARP, National Council on Aging, and National Senior Games Association. The campaign will continue with screenings at more than 2,000 events across the country. It was directed by Christopher Rufo and produced by Keith Ochwat.
United Hebrew will also unveil a photographic exhibit entitled "We are Champions" in the Lazarus Gallery of their new nursing home and rehabilitation pavilion. The exhibit will feature a series of portraits which will capture the spirit and energy of active senior athletes.
The documentary screening and reception will take place on Friday, April 27, 2012 at 2:00 pm at United Hebrew of New Rochelle, 391 Pelham Road, New Rochelle, New York. For more information please contact Linda Forman, VP of Community Relations, UH at 914.632.2804 x1224 or lforman(at)uhgc(dot)org. http://www.uhgc.org
# # #