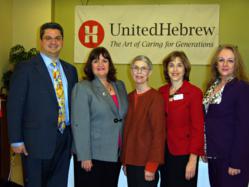 "United Hebrew is committed to providing educational seminars so that we can make good choices when planning for our own and our loved one's long term care needs." said Linda Forman, Vice President of Community Relations at United Hebrew.
New Rochelle, New York (PRWEB) November 30, 2011
United Hebrew of New Rochelle's Nursing Home and Rehabilitation Center recently hosted a Senior Law Day. The free community educational event featured a panel of three leading elder law attorneys including Frances M. Pantaleo, Esq., from Walsh, Amicucci & Pantaleo, LLP, who discussed "Estate Planning: Wills, trusts and your property." ; Michael J. Amoruso, Esq., of Amoruso & Amoruso, LLP, who spoke about "Alzheimer's and Memory Loss: When a loves one needs a guardian." and "End of Life: Navigating the legal steps" discussed by Mary Beth Morrissey, Esq., PhD. MPH, from Fordham University's Ravazzin Center on Aging and the Collaborative for Palliative Care. The program was sponsored by United Hebrew, the Westchester County Department of Senior Programs & Services, the Westchester Public/Private Partnership for Aging Services, The South East Livable Communities Connection and the New Rochelle Office for the Aging.
For more information about United Hebrew of New Rochelle contact Linda Forman at 914.632.2804 x1224 or http://www.uhgc.org.
About United Hebrew of New Rochelle
The Harry and Jeanette Weinberg Campus
United Hebrew is a vibrant not-for-profit, non-sectarian, multi-service senior living campus serving the Westchester metropolitan area since 1919. United Hebrew offers a rich array of skilled and community-based programs and services that encourages and supports a life of dignity and spirituality and promotes the highest possible quality of life. United Hebrew serves over 600 clients daily in its Harry and Jeanette Weinberg campus facilities -- Willow Towers, The Beverly and Alfred J. Green Pavilion, a 126-unit licensed assisted living residence which has the SNALR Phoenix unit as one of the first in the county to receive the certification from New York State Dept of Health to cater to residents with Alzheimer's & related disorders in a special needs assisted living residence; a 296-bed nursing and rehabilitation center staffed with Burke Rehabilitation professionals; the 135-unit Soundview Apartments for seniors; a Long Term Home Health Care Program; and the AZOR Home Health Agency. United Hebrew recently opened its new home, which combines world class care with state-of-the-art features. http://www.uhgc.org
###