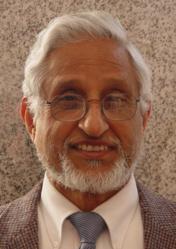 "The medical students have the great opportunity to learn about the special needs of our older population." said Rita Mabli, President/CEO of United Hebrew of New Rochelle.
New Rochelle, New York (PRWEB) September 08, 2011
Dr. Mohan Cheema, Medical Director of United Hebrew of New Rochelle's nursing home and rehabilitation center has been appointed Adjunct Assistant Professor of Medicine at Dartmouth Medical School. Dr. Cheema is triple board certified in Pulmonary Medicine, Geriatric Medicine and Internal Medicine. United Hebrew has served as a teaching site for Dartmouth Medical School students who are studying their rotation in geriatrics, the study of older adults. Dr. Cheema has been medical director of United Hebrew since 1975 and has a private practice in New Rochelle.
"We are proud of Dr. Cheema's accomplishments and to be an affiliate of Dartmouth Medical School." said Rita Mabli, President and CEO of United Hebrew. "The medical students have the great opportunity to learn about the special needs of our older population under Dr. Cheema's expertise and with our very experienced team of caregivers."
As Medical Director since 1995 of United Hebrew of New Rochelle, Cheema oversees the medical needs of 296 residents daily including physician services, nursing, rehabilitation, pharmacy, therapeutic recreation and ancillary services. He is also the Medical Director of the United Hebrew Long Term Home Health Program. United Hebrew opened its new nursing pavilion in 2009 which includes a dedicated floor for short term rehabilitation staffed with Burke Rehabilitation Hospital trained therapists.
Since 1969, Dr. Cheema has also been on the staff of Sound Shore Medical Center, acting as Chief of Pulmonary Medicine and Attending Physician in Internal Medicine. He emigrated from India in 1964, and completed his US training at Fordham Hospital and Long Island College Hospital. Dr. Cheema is a Fellow of the American College of Chest Physicians. He is Associate Clinical Professor of Medicine at the New York Medical College and teaches Pulmonary Medicine and clinical skills to medical students that do clinical rotations at United Hebrew and Sound Shore Medical Center. Dr. Cheema and his family have been residents of New Rochelle since 1969.
About United Hebrew of New Rochelle
The Harry and Jeanette Weinberg Campus
United Hebrew is a vibrant not-for-profit, non-sectarian, multi-service senior living campus serving the Westchester metropolitan area since 1919. United Hebrew offers a rich array of skilled and community-based programs and services that encourages and supports a life of dignity and spirituality and promotes the highest possible quality of life. United Hebrew serves over 600 clients daily in its Harry and Jeanette Weinberg campus facilities -- Willow Towers, The Beverly and Alfred J. Green Pavilion, a 126-unit licensed assisted living residence which has the SNALR Phoenix unit as one of the first in the county to receive the certification from New York State Dept of Health to cater to residents with Alzheimer's& related disorders in a special needs assisted living residence; a 296-bed nursing and rehabilitation center staffed with Burke Rehabilitation professionals; the 135-unit Soundview Apartments for seniors; a Long Term Home Health Care Program; and the AZOR Home Health Agency. United Hebrew recently opened its new home, which combines world class care with state-of-the-art features. http://www.uhgc.org
For more information contact Linda Forman, Vice President of Community Relations at lforman(at)uhgc(dot)org or 914.632.2804 x1224.
###