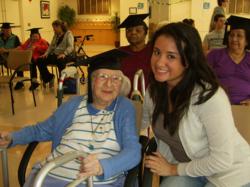 Our residents feel a greater connection to the world at large and have developed new friendships with their teachers from Pace University.
(PRWEB) May 19, 2011
United Hebrew of New Rochelle, a premier nursing home, rehabilitation center, assisted living and senior housing organization, recently celebrated the graduation of students from its innovative intergenerational gerontechnology program. The "digital divide," the gap between new technology and the ability to use it, can be greatest among seniors because many of them fear they cannot learn how to use them. The very group that could spend their leisure time emailing friends and family, shopping, and connecting with others in on-line communities often is unable to do so. However, older adults might be less fearful of computers if learning was adapted to their individual needs.
The United Hebrew residents began their computer classes in March of this year in a program that was created in 2006 through the partnership of United Hebrew, Pace University's Seidenberg School of Computer Science and Information Systems, Fordham University, The Westchester County Department of Senior Programs and Services and Westchester Community College. Each graduate received a certificate from representatives from Pace University and enjoyed graduation cake and punch in the afternoon ceremony.
"We are so proud of these residents for overcoming their initial fears of technology," said Linda Forman, Vice President of Community Relations. "Our graduates feel a greater connection to the world at large and have developed new friendships with their teachers from Pace University."
The resident graduates and their Pace University student teachers were able to express their feelings about the successful completion of the course as the microphone was passed around. There was great pride in their accomplishments and the warm friendships that developed between the two generations was very apparent.
The next class for United Hebrew residents begins in the fall, with student teachers enrolled in service-learning at Pace University. Residents from United Hebrew's nursing home, Willow Towers Assisted Living facility, and senior housing all have the opportunity to take classes in computer labs in each building on the UH campus.
In today's fast-paced, computerized society, lifelong learning is essential. Older adults who learn how to use computers can open up a new world of browsing the Internet for news and information, emailing family and friends in who are too far to visit, creating and sending greeting cards, writing to government officials about issues of interest, and keeping up with health and medical information. In addition to gaining computer skills, they also benefit from the new relationships they formed with the students and faculty members of Pace University.
Last year United Hebrew added an addition to its computers from The Telikin company. Telikin has created a new computer with a touch screen and an easier formatted screen. Two computers were donated to United Hebrew as part of their ongoing research to improve their product. One of the computers was given to United Hebrew resident, Pam Leichtweis.
"The Telikin touch screen has changed my life. I am not able to use my hands very well, but the touch screen is so easy to use. I can't live without it," said Pam Leichtweis.
"This program enables our residents to interact with a team of students who have been already primed in ways to teach older adults." said Linda Forman, "Graduation is always a highlight on our campus as it gives such satisfaction to know they learned new and valuable computer skills."
For further information, please contact Linda Forman at 914.632.2804 x 1224 or lforman(at)uhgc(dot)org
About United Hebrew
The Harry and Jeanette Weinberg Campus
United Hebrew is a vibrant not-for-profit, non-sectarian, multi-service senior living campus serving the Westchester metropolitan area since 1919. United Hebrew offers a rich array of skilled and community-based programs and services that encourages and supports a life of dignity and spirituality and promotes the highest possible quality of life. United Hebrew serves over 600 clients daily in its Harry and Jeanette Weinberg campus facilities -- Willow Towers, a 126-unit assisted living residence; a 296-bed nursing and rehabilitation center staffed with Burke Rehabilitation professionals; the 135-unit Soundview Apartments for seniors; a Long Term Home Health Care Program; and the AZOR Home Health Agency. United Hebrew recently opened its new home, which combines world class care with state-of-the-art features.
###