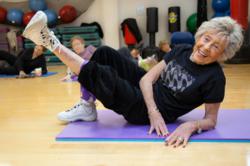 United Hebrew of New Rochelle's committment is to assist people in aging with dignity...The Champions we honor today are role models for healthy living" said Rita Mabli, President/CEO of United Hebrew.
New Rochelle, New York (PRWEB) May 21, 2012
It was a very special day at the standing room only "We Are Champions: Senior Athletes in Motion" event at United Hebrew of New Rochelle, a leading continuum of care campus that includes a Westchester nursing home , rehabilitation, assisted living and home health care. It isn't at all unusual for people to participate in sports these days, but when their average age is over 80 years old it can be something special. Take for example, Arthur Spinner who at 88 is still "spinning" around with his dance partner from Westchester Ballroom, where he was inspired to continue dancing 10 years ago. Arthur is just one of the senior athletes that were honored at the event which celebrated active aging with the opening of a photographic portrait exhibit of the "Champion" senior athletes. The inspiring photographic portraits of Westchester senior athletes is on exhibit in the United Hebrew's Lazarus Gallery through September 30th. The photos include sports activities from tennis, to belly dancing to biking.
As part of the event, Mr. Spinner gave a ballroom dance performance to the James Bond Theme song with his dance partner, Aliaksandra Davydava. Spinner enthusiastically expressed himself about movement. "I love to dance because I feel great, it challenges me, and it feels like I am floating across the floor. My advise to young people is to keep active - walk, dance or move and you will feel better."
Another Champion featured in the exhibition is Tao Porchon-Lynch, a Master Yoga teacher approaching her 94th year. She recently was awarded with the Guinness Book of World Records for being the oldest yoga teacher. Tao was born to an Indian mother and a French father and lived in India for the first twenty years of her life. Her multi-cultural background combines the positive aspects of Indian, European and American thought. She uses her unique understanding of Yoga's principles to overcome the effects of aging and shows how to tap into the incredible powers all individuals possess. Tao lives her message that, "There is nothing we cannot do if we harness the power within us."
Maureen Lundahl has lived at the Low-Savin Residence/Soundview Apartments on the United Hebrew campus for 6 years. At 84 years old, she faithfully leads the gentle exercise group at Soundview and says, "don't sit around, get out and walk; make friends with all ages of people."
A retired New Rochelle pediatrician, Lester Zimmerman spends a lot of hours at the gym. He decided to get into shape so that he could keep up with his grandchild. "Older people need to get involved in exercise for improvement of balance, flexibility and maintaining their mental abilities." He has a new found energy thanks to his hard work.
At 93+, Eugene Grant of Mamaroneck continues to play tennis as much as possible. For Gene, tennis has been a wonderful way to stay fit while enjoying the camaraderie of friends. Mr. Grant said, "Longevity is a combination of luck and staying active. Playing tennis is a good controller of weight, and gives you energy that you might not have otherwise. Hopefully, a person is physically able to enjoy it for as long as I have. Staying active is exhilarating. After playing for 82 years, it is still a great game for young and old alike."
Marietta Abeles-Mogan has enjoyed exercise all of her life. As a 91 years old active older adult, she participates in the group fitness program at the JCC of Mid-Westchester. She has found that exercise has helped her to enjoy her wonderful children, grandchildren and great grandchildren. "Continue to be active, maintain good nutrition and try to have a good life…keeping active has helped me to enjoy the things I love."
The exhibit was curated by Lazarus Gallery curator, Jodi Moise. The photographs were taken by Westchester photographers who donated their time and talents to the exhibition. They included Suzy Allman, Ruth Prieto Arenas, Cristina Cerone, Domenica Comfort, June Greenspan, Barbara Hansen, John Lucas, Mariela Dujovne Melamed, Anna Piliero, Eve Prime, Ramon Ruiz Sampaio, Charles Seton, Alan Vollweiler, and Susan Woog Wagner.
The "We Are Champions" event program concluded with showing an award-winning documentary entitled "Age of Champions" which tells the story of several senior athletes that went for the gold at the National Senior Olympics. After the film the audience enjoyed a reception in the United Hebrew gallery and courtyard garden café.
United Hebrew, the Harry and Jeanette Weinberg Campus, opened the new Lucile and Joseph Skalet Pavilion for short term rehabilitation and skilled nursing care in 2009. The rehabilitation is staffed with Burke Rehabilitation trained therapists who are focused on returning short term rehab patients home in the shortest time possible with the greatest level of independence possible.
Rita Mabli, President and CEO of United Hebrew said, "United Hebrew's commitment and focus is on assisting people to age with dignity, grace and as much independence as possible. The champion senior athletes we acknowledge today are role models for healthy living and although all are aging, they have not let that define them. They deserve to be honored for their incredible, uplifting spirit by staying active at any age."
For more information contact Linda Forman, Vice President of Community Relations, United Hebrew of New Rochelle, 391 Pelham Road, New Rochelle, New York, 914.632.2804 x1224. http://www.uhgc.org.
About United Hebrew of New Rochelle
The Harry and Jeanette Weinberg Campus
United Hebrew is a vibrant not-for-profit, non-sectarian, multi-service senior living campus serving the Westchester metropolitan area since 1919. United Hebrew offers a rich array of skilled and community-based programs and services that encourages and supports a life of dignity and spirituality and promotes the highest possible quality of life. United Hebrew serves over 600 clients daily in its Harry and Jeanette Weinberg campus facilities -- Willow Towers, The Beverly and Alfred J. Green Pavilion, a 126-unit licensed assisted living residence which has the SNALR Phoenix unit as one of the first in the county to receive the certification from New York State Dept of Health to cater to residents with Alzheimer's & related disorders in a special needs assisted living residence; a 296-bed nursing and rehabilitation center staffed with Burke Rehabilitation professionals; the 135-unit Soundview Apartments for seniors; a Long Term Home Health Care Program; and the AZOR Home Health Agency. United Hebrew recently opened its new home, which combines world class care with state-of-the-art features.