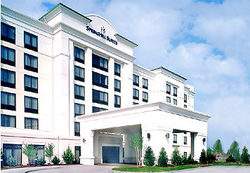 Tarrytown, NY (PRWEB) February 27, 2010
It's new and exciting and it's making a big "Splash!" in the Tarrytown bar scene! "Splash!" - the new bar at the Marriott's Springhill Suites Tarrytown is open and offers guests and locals an exciting new location for business and social networking and a relaxing atmosphere for an evening out after a long day at work.
As a special part of the Marriott Rewards program, this historic Hudson Valley hotel is offering 250 Marriott Rewards Points to guests with their first drink of the evening for each night of their stay. This offer provides guests with another great way to make a "Splash!" of points into their Marriott Rewards account and save money on travel expenses.
Guests of the Springhill Suites will find this lobby bar convenient for big game excitement and high quality cocktails. The new bar's televisions feature a complete line-up of sports channels to make sure no one misses a play while enjoying their favorite beverages. Bar beverages include only top-shelf liquors such as Grey Goose, Bombay Sapphire and Singleton single malt scotch for premium cocktails and a variety of upscale wines.
A special cocktail menu is offered including a unique Spring Hill Cosmo, the popular Cuba Libre, Dirty Martini, Lemon Drop Martini and a White Russian, all priced at $10 each. The wine selection includes three red wines - Edna Valley Cabernet Sauvignon, California, B.V. Century Cellars Pinot Noir, California and B & G Merlot, French; and three white California wines - Sterling Vintner's Pinot Grigio, Edna Valley Chardonnay and Painted Hills. All are served at $8 per glass.
This Hudson River hotel offers guest suites that are spacious by design and a smoke-free environment with services and amenities designed to fit a busy lifestyle. Suites are 25 percent larger than average hotel rooms and include separate areas for working, dining and sleeping. Each room features luxurious bedding ensembles with crisp linens and fluffy pillows, modern bathrooms and kitchen features including a mini-refrigerator, microwave and bar sink. Learn more at http://www.marriott.com/hotels/travel/hpntr-springhill-suites-tarrytown-greenburgh/.
###