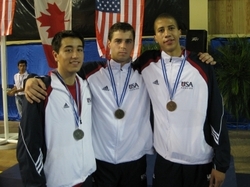 Hawthorne, NY (PRWEB) July 17, 2009
At the 2009 Pan American Championships in San Salvador, El Salvador (July 2 - 9, 2009), Kurt Getz, 21, of Rye, NY, took gold medals in both the Senior Men's Foil individual event and, with his United States teammates, the team event. Getz, a member of the 2009 United States Foil Fencing Team, is currently ranked #2 in the United States and #17 in the world. He is also captain of the Columbia University Foil Fencing Team where he is starting his senior year this fall.
Since 2002, Getz trains at the Fencing Academy of Westchester in Hawthorne, NY where he does his physical conditioning and practice bouting with other members of the club. He is coached by head coach and fencing master, Vycheslav Grigoriev, a two-time former Soviet Union Olympian.
In the individual event, defending the gold medal he earned at the 2008 Pan American Championships last July in Queretaro, Mexico, Getz was seeded #1 coming out of the preliminary pool events and thereafter went undefeated in direct eliminations through to the gold medal bout where he defeated teammate, 2008 Olympian Gerek Meinhardt of San Francisco, CA (currently ranked #1 in the United States and #13 in the world). The final score was 15-10. Getz, along with his teammates Meinhardt, Miles Watson of Philadelphia, PA and Alex Massialis of San Francisco, CA defended their 2008 team gold medal by defeating Brazil 45-28 in the final.
Getz's world ranking has improved from 132nd at the start of last year to 16th today. Getz's honors include, three time NCAA First Team All American, Academic All Ivy Distinction and two-time Ivy League Champion.
The Pan American Championshiops are organized by the Pan American Fencing Confederation under the auspices of fencing's international federation, Federation Internationale D'Escrime (http://www.fie.ch) located in Lausanne, Switzerland.
About Fencing Academy of Westchester. The Fencing Academy of Westchester ("FAW") is a fencing school and club located in Hawthorne, New York that serves the Tri-State Area. The club provides fencing instruction in all Olympic weapons, Foil, Epee and Saber, to children age 7 and up, teens and adults. Our members include beginner and recreational fencers who bout "for fun", high school fencers who compete at the local and national level, college fencers who compete in NCAA Division I programs, and world class fencers on the U.S. National Team who compete internationally. FAW training has been instrumental in gaining member students placements on fencing teams in some of the nation's top colleges and universities including Princeton, Yale, Columbia, Penn, Cornell, Brown, Duke, Stamford, NYU, Notre Dame, Vassar and Rice. For more information please go to http://www.fencewestchester.com or call (914) 345-5005.
# # #