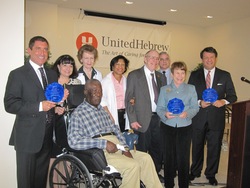 You have been friends of United Hebrew for many years
New Rochelle, NY (Vocus) May 10, 2010
United Hebrew of New Rochelle, a premier long term care organization, presented New York Association of Homes and Services for the Aging (NYAHSA) Partners in Quality awards recently to State Senator Jeffrey D. Klein, State Senator Suzi Oppenheimer and Assemblyman George Latimer for their efforts as advocates for nursing home facilities and senior services issues. United Hebrew hosted the awards ceremony on its 7.4-acre campus in Westchester County that includes a new nursing home and rehabilitation center, Willow Towers Assisted Living, independent living and home health care services.
United Hebrew President and CEO, Rita Mabli, introduced the distinguished award recipients and thanked them for taking a strong stand in support of senior services. "You have been friends of United Hebrew for many years," said Mabli, "You understand the challenges that we face in the climate today, and you try to help us at every turn."
Vice President of Nursing and Clinical Services, Patricia McCormack, spoke about how important it is for United Hebrew to continue providing the highest quality of care for its residents. Staff member Mertel Thomas and residents, Samuel James and John Klauer, presented the awards to the legislators, while 100 people, including UH Board Members Pearl Quarles and David Alpert observed from the audience.
"These three legislators recognize the critical role that facilities like United Hebrew play (in providing senior services) and they recognize the need to support these services," said Patrick Cucinelli, NYAHSA Sr. Director of Public Policy Solutions, who spoke at the awards ceremony. Founded in 1961, the New York Association of Homes & Services for the Aging (NYAHSA) represents not-for-profit, mission-driven and public continuing care providers. Partners in Quality is a coalition of consumers, family members, staff, administrators and legislators working together to protect New York's seniors and disabled from reduction in health care services.
Caption: (L to R) State Senator Jeffrey Klein, United Hebrew President/CEO, Rita Mabli; United Hebrew staff Patricia McCormack and Mertel Thomas; UH resident, John Klauer; NYAHSA Senior Director, Patrick Cucinelli; State Senator Suzi Oppenheimer; Assemblyman George Latimer; seated, UH resident Samuel James, at the United Hebrew of New Rochelle Partners in Quality awards ceremony.
About United Hebrew:
United Hebrew is a vibrant not-for-profit, non-sectarian, multi-service senior living campus serving the Westchester, New York metropolitan area since 1919. United Hebrew offers a rich array of skilled and community-based programs and services that encourages and supports a life of dignity and spirituality and promotes the highest possible quality of life. United Hebrew serves over 600 clients daily in its campus facilities -- Willow Towers, a 126-unit assisted living residence; a 296-bed nursing home and rehabilitation center staffed with Burke Rehabilitation professionals; the 135-unit Soundview Apartments for seniors; a Long Term Home Health Care Program; and the AZOR Home Health Agency. United Hebrew recently opened its new home, which combines world class care with state-of-the-art features.
United Hebrew is located at 391 Pelham Road, New Rochelle, New York 10805. For further information, please contact Linda Forman at 914.632.2804 x1224, e-mail lforman(at)uhgc(dot)org, or visit http://www.uhgc.org.
###