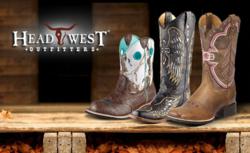 Offering customers traditional western wear and the latest fashion trends.
Erie, Pa (PRWEB) October 08, 2012
It is good news when business is going well, and Head West Outfitters is excited to announce that business is not only booming, the retailer is expanding with new brands and products. "With an increased demand over the last year for high fashion western apparel, we are gearing up for an even busier holiday shopping season by expanding merchandise in our retail store and online," shared Linda Skelton, general manager of Head West Outfitters. "We are always adding new products to our selection, but this season is going to have a very noticeable increase. The most expanded selection will be showcased in cowboy boots. New boot styles from Corral, Macie Bean, Ariat, Justin, and Tony Lama are already showing up in the store and online, and we're still working on adding more."
Head West Outfitters will continue offering customers traditional western wear and the latest fashion trends that are hitting red carpets and fashion shows. "A big trend we're seeing now is Aztec and Southwest influenced designs, and we've just started receiving these new styles. This look is going to be big from fall all the way into spring. It fits in well with our western niche, and we're really taking advantage of this big trend hitting the market," Linda commented. "The biggest clothing increases coming into the store for fall will be Ariat apparel. Vests were a hot trend last year, and we expect that look to only get more popular this year. We've increased our selection to meet that demand."
Along with new boots and more Ariat apparel, an expanded denim selection has also hit the Head West Outfitters shelves and website. Customers are requesting more high fashion denim jean brands, and Head West Outfitters is stocked up on blingy pocket jeans from the very popular Miss Me Jeans brand. Two traditionally western jean brands that customers just can't get enough of are Cowgirl Tuff and Wrangler Rock 47. Both brands are coveted for their comfort for riding and trendy, high-fashion details.
Moving into the fall season gives customers a chance to update their wardrobe with appropriate clothing for cooler weather, and now there are even more new fashion apparel options from which to choose at Head West Outfitters. "We are excited to see how our customers respond to the new selection. We're constantly hearing from customers that they want the newest trends that they see in magazines and on television, and this year we are going to have even more to offer," Linda stated.
Inexpensive shipping fees and competitive sales promotions have been key to success with the retailer's online business, and now an expanded product line is projected to foster additional growth. Head West Outfitters is also expanding their promotional efforts to keep customers excited about upcoming releases. Discounts and giveaways are planned to reward customers for their patronage and introduce new products as they become available.
While Head West Outfitters is relatively new to the retail industry, the company was established by a group of friends with a passion for the western lifestyle, so the knowledge, experience, and commitment run deep in the company's roots. Since 2010, Head West Outfitters has been dedicated to providing western and contemporary customers with updated and trendy apparel. Whether living the western lifestyle or just adding the western look into an existing clothing style, Head West Outfitters has cutting-edge clothing to outfit most any desire.
Head West Outfitters
2309 Wager Road
Erie, Pennsylvania 16509
Toll Free: 1-877-799-WEST