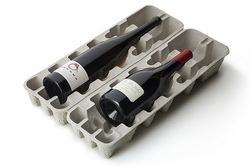 The new design features a single folding tray that offers packing configurations for one to six 1.5 liter magnum bottles
Corvallis, OR (Vocus) May 5, 2010
Western Pulp Products (WPP) recently released its Vintner's Choice 1.5 liter Magnum Wine Shipper. Vintner's Choice innovative wine shippers are developed with input from leading consumer-direct fulfillment and supply chain services for the wine industry. The new 1.5 liter biodegradable molded fiber shipper is the latest response to feedback from such leaders.
"The new design features a single folding tray that offers packing configurations for one to six 1.5 liter magnum bottles," explains Rick Hurley, WPP's Vice President of technology. "Our original molded fiber wine shippers for 750 ml bottles are increasingly popular, and industry leaders have asked for this new, larger option."
The Magnum Wine Shipper accepts diverse sizes ranging up to 19-inch tall, slender bottles such as Rhine-style (hock) bottles to the wider, 4.5-inch diameter low- and high-shouldered Burgundy and Bordeaux bottles.
Vintner's Choice innovative designs nest together efficiently, saving almost two-thirds the space needed to store expanded polystyrene (EPS) shippers. "Our customers appreciate that this reduces in-bound freight cost and the potential carbon footprint, too," says Hurley.
WPP is a strong advocate of environmental responsibility. Certified by Scientific Certification Systems (SCS), Vintner's Choice wine shippers contain a minimum of 99% post-consumer recycled paper.
As with all patented Vintner's Choice wine shippers, the new 1.5 liter Magnum has repeatedly met the high standards required by FedEx and UPS test labs.
For more information or to arrange an interview about this product, please contact Scott Cornthwaite at scott(at)wordsoutpr(dot)com, or call 503.851.1980.
About Western Pulp Products:
Vintner's Choice wine shippers are made by Western Pulp Products Company (WPP), which, since 1958, has manufactured a variety of innovative molded fiber products that: Divert waste fiber from landfills or incineration; displace products that are not biodegradable; use renewable and sustainable materials; and recycle, compost or biodegrade after use. Unlike many products that are made overseas, WPP manufactures with recycled paper in compliance with rigid local, state and federal regulations, and reflects their on-going commitment to conserve natural resources. Headquartered in Corvallis, Oregon, WPP also operates facilities in Texas and North Carolina. For more information, visit http://www.westernpulp.com.
###